If you are a sport fishing enthusiast, you will be interested in reading this article. In the We will talk about the brand KastKing, one of the top brands of AliExpress where you can find fishing accessories: Reels, lures, Thread…
It is difficult to find opinions on this brand, although it has thousands of sales on its website there are few reviews of its products, so today we will explain its features and analyze whether it is worth buying their products, we are sure you Interest as you could save a good money on a hobby as expensive as fishing can be.
We analyze the Kastking brand and its cheap fishing accessories
Although we are talking about one of the most famous fishing accessory brands on AliExpress, this brand is not of Chinese origin. It was created in the year 2012 by the hand of some American students fishing enthusiasts who wanted to bring this fun sport to anyone, without the money was a problem. With their knowledge of the Internet and e-commerce, they began to manufacture high quality selling products at very reasonable prices, with the sole aim that fishing is still fun. Moreover, innovation, technology and quality had to be the cornerstones of their products.
The result was the KastKing brand, which offers high-performance fishing accessories at a very affordable price, designed by fishermen for fishermen. This brand offers different accessories, but mainly offers reels, rods and fishing threads. They serve both for beginner fishermen with little budget even for the most veteran and demanding, proof of this is their success in America sales. However, thanks to its headquarter in China they also sell their products through its official AliExpress store, which you can access from here, where you will find better prices than in your American store and more shopping facilities, besides the products purchased From China they have less customs problems than those coming from America. We will analyze your best fishing accessories.
Fishing Reels: Cheap and high quality
One of the most sold products of this brand are the reels, they have a great quality and they are very cheap, especially if we buy them here, in their official AliExpress store. They have three types of reels for the different types of fishing that exist: for spinning, bait casting or fly fishing, the latter are the least sold but if you are interested you can find them in this link.
Spinning reels
If you practise this type of sport fishing, besides needing a flexible and light cane that allows to throw lures with the cane gives of one hand, you will need a reel of fixed or frontal drum. This spool will be installed in the shank at the bottom, and you can change the handle to one side or the other to adjust it to our preferences. This brand offers more than 10 spinning reels available in this custom search.
Among its best selling models we find the KastKing Sharky II, an extremely lightweight reel with high resistance to corrosion thanks to its carbon fiber body, which can withstand a maximum weight of 19 KG (in its version Sharky II 6000) and a capacity of line Maximum 0.41 mm/195mm or 0.47 mm/145mm. In short, a silent, compact, powerful and light film ideal for any fishing enthusiast for less than 30 euros here.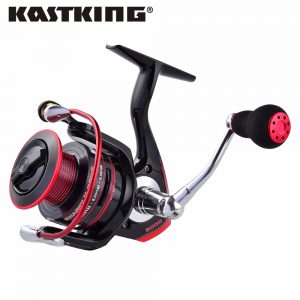 If you are looking for a reel of superior performance, I recommend you look at the KastKing Kodiak, a reel totally built in solid aluminium with aluminium rotor and CNC machining that gives it solidity and sturdiness. Its brass gears and its carbon-fiber drag system make this reel drag a weight of up to 18 Kg. It also works very smoothly thanks to its precise manufacturing tolerances and high-quality bearings. In short it is the flagship in terms of spinning reels of this brand, especially suitable for saltwater fishing that you can find for just over double the previous one in this link.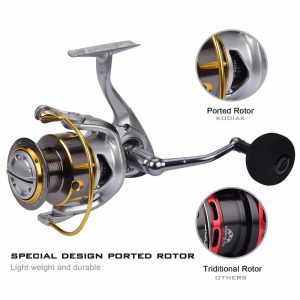 Bait-Casting Reels
This type of fishing needs a rotating reel with a line output as agile as the front reels. It is a very fun technique to fish in summer, when there is more variety of fish that can be fished with this technique. In addition, it is better for great efforts thanks to its cross-drum so its power transmission is more efficient, although no doubt spinning reels are easier to handle for beginners and children. KastKing has a wide variety of bait-casting reels that you can easily find here.
Among its most sold reels of this modality we find the KastKing Royale Legend, a reel of launching of bait with double braking system (magnetic brake and independent centrifugal brake of long duration) with a capacity of drag of up to 8 kg. It is a low-profile, super-high-performance low aerodynamic reel that offers the quality and performance of reels from other brands such as Shimano, Abu Garcia or Daiwa with an incredibly low price as you can see in this search. In addition, your crank can be changed sideways in case we are left-handed.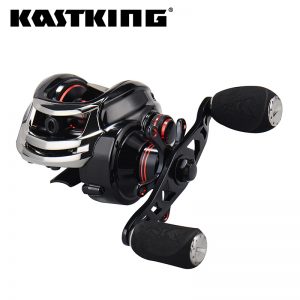 But if our budget is higher and we want a reel of great performance, we recommend the flagship of the brand in terms of baitcasting reels, the KastKing Spartacus Maximus, a warrior of the fishing! It has a drag capacity of up to 11.3 Kg with a weight of about 260 grams. This great power is achieved thanks to its robust unibody aluminium body. As in the previous case, it has a double braking system (centrifugal and magnetic) and 11 + 1 stainless steel bearings. This CNC aluminum spool works smoothly and is available in two versions: with crank left or right. You can find it on aliexpress by clicking here.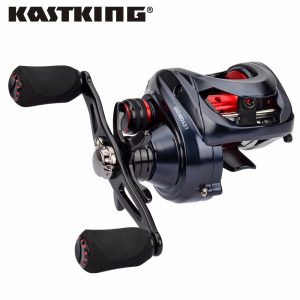 High quality fishing threads
This is another of the most successful products of this store, since it has bobbins of thread of up to 1000 meters for all the tastes and colors. We can find different line numbers from 0.1 to 8.0. Whatever type of fishing line you need (braided, nylon, fluorocarbon). Its threads are designed to guarantee the best fishing experience, offering a low memory and incredible strength, with good quality controls, designed to last a long time. You can find all your reels and fishing threads in this link.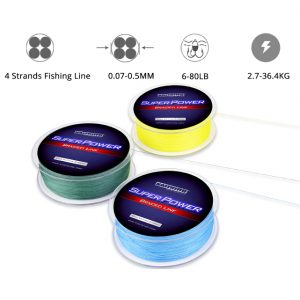 Cheap Fishing Rods
Although it does not have as many models of reeds as of threads or reels, some of the rods of KastKing already accumulate thousands of sales, since they are ideal for beginners: they cost less than 25 euros and have good value for money: they are flexible thanks to the fiber of Triple layer carbon. We can find telescopic rods or stretches from 15 euros here.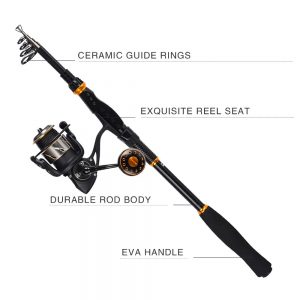 Other Fishing Accessories
The rods, threads and reels are the most popular products of this brand, are sold in more than 600 different countries with great success of sales thanks to its quality and low price. But they also have other interesting products like fishing lures, essential for the two most popular fishing types among buyers of this brand. You can find them in this link.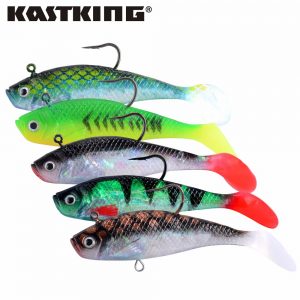 Finally, in this store we will also be able to find other fishing accessories like mince indicators, polarized sunglasses, pliers, scales, dry bags, gloves and many more accessories, some accumulate thousands of sales, because they are very useful tools They cost very little money compared to what they usually cost in other physical fishing stores, as you can see here.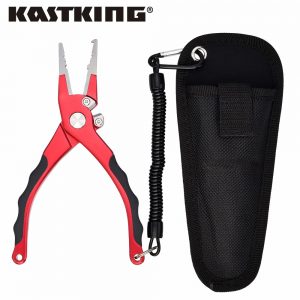 How to buy KastKing brand fishing accessories on AliExpress
We have already said at the beginning of this article that this brand is sold through several online sales pages specializing in sport fishing products, one of the countries where this brand is sold most is in America. However, the best way to buy your cheap products and without falling into the trap of pages of doubtful reliability is to do it through your official store on AliExpress, which you can access from this link.
More tips and tricks in our tutorials
In AlixBlog, in addition to buying guides of products and brands that are worth knowing about aliexpress and other online sales pages, we also have a section with tutorials where we explain everything you need to know before you click the "Pay" button. Our definitive guide on AliExpress is a good example, in it we explain how to buy on this website.
And you? Have you already bought KastKing fishing products on aliexpress? We would love to know your opinion, do not hesitate to leave us a comment below.
GuardarGuardarGuardarGuardarGuardarGuardar
GuardarGuardar
GuardarGuardar