Goldway is one of the most popular stores in AliExpress,  literally millions of people buy from them every year. It specializes in technology, and given the recent boom in Chinese mobile phones explains their success, where the main brands they sell are Xiaomi, Lenovo, Huawei, ZTE, Coolpad, Elephone, THL, Meizu… All of these are starting to really open a gap in lots of western markets. Goldway's strong point in AliExpress is how cheap they offer their products. If you want to take a look at the authentic Goldway store, click Here. We link it directly because Goldway has become so famous that many new sellers are putting the word Goldway in their stores and products to try and confuse buyers and benefit from Goldway's good reputation, so it's important to make sure we are in the original store, numbered "311331".
According to AliExpress users is Goldway reliable?
If we look at the Aliexpress users ratings we will see that this store is certainly reliable. These are their qualifications: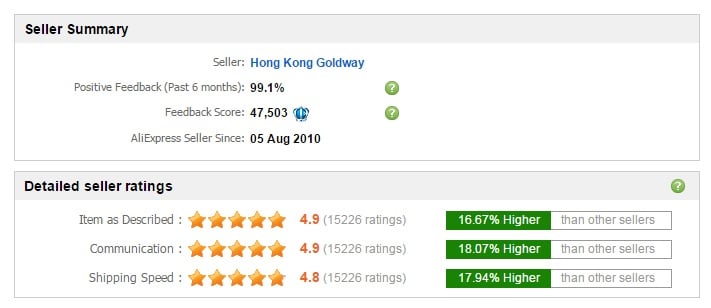 As we can see, it has a crown, which means that it's in the highest rank of stores in AliExpress. Keeping in mind the high volume of purchases it processes, this is quite a merit. Anyway, aside from Goldway, there are many other stores  in AliExpress as reputed and reliable as Goldway, and sometimes they have better cell phone offers. We recommend, for instance, that you take a look at the Best credit technology store (based in Europe), as sometimes it has much better prices than Goldway.  
  Anyways, back to Goldway, what made this store so popular among users around the world is that it had a technical service in many languages. We say "had" because on january 2015, it seems this technical service disappeared. We have been told that this service will be up and running shortly. We'll keep you informed. Go to Goldway.