As for electric scooters, Xiaomi is undoubtedly the most popular brand. It has managed to cross borders and has become the most popular scooter in the world. However, there are cheaper alternatives that can be easily found on AliExpress. This is the case of the Kugoo Kirin scooters, which are gradually becoming more famous, since they have many advantages at a very reasonable price.
Review of Kugoo electric scooters available on AliExpress
Although it is still a bit unknown, Kugoo is a brand that manufactures high quality electric scooters at a very good price. Among its most outstanding features we find several security systems, a high-quality construction and a compact design that is easy to transport. We will walk you through their best scooters, although you can find them all here.
Kugoo Kirin S1: Good Lightweight Electric Scooters
The Kirin series is one of those with the brand's most recent scooter. The Kugoo Kirin S1, which you can find at this link, is one of the most recent and the brand calls it "one of the best electric scooters on the market". Thanks to its 350 W brushless motor it can reach a speed of up to 15 mph and support a weight of up to 220 pounds. It has 3 speed levels: slow (6 mph), intermediate (12 mph) and maximum (15 mph) and can overcome inclines of up to 15 degrees.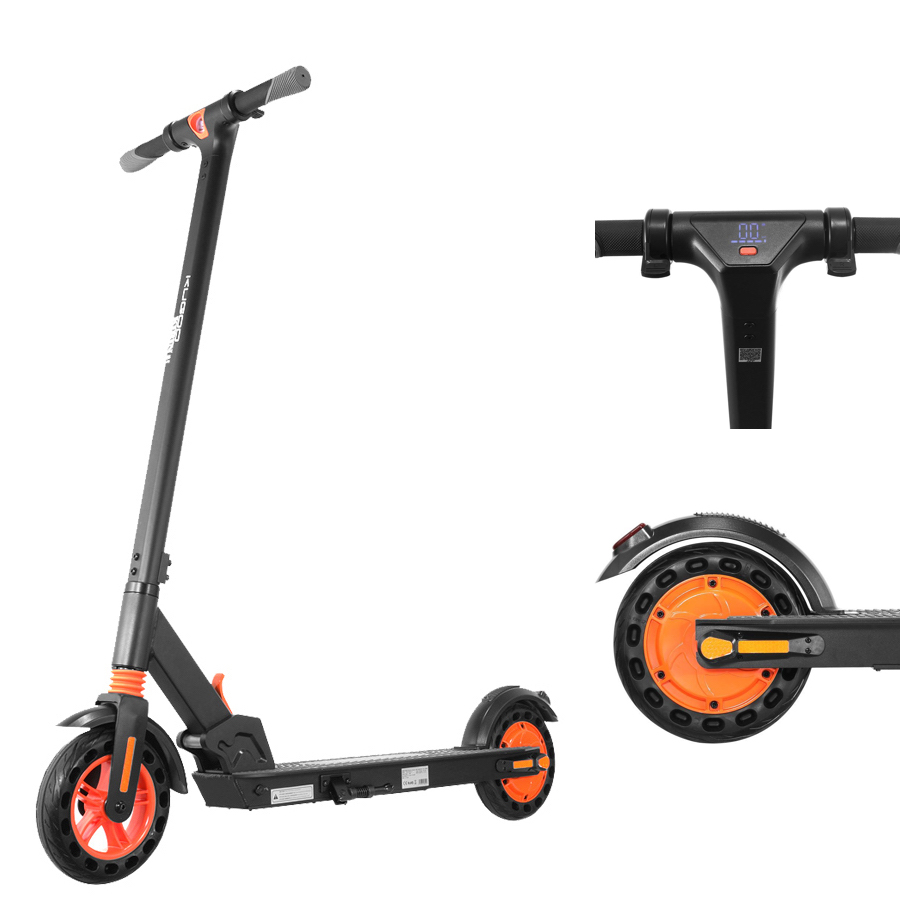 Its wheels are 8-inch Honeycomb type with a non-slip finish. The handlebar, which incorporates a front shock absorber, includes the control panel and lights. For you to drive safely, it has an electric brake in the front and a manual brake in the rear that stop completely in about 4-5 meters. But the highlight is its lightweight and compact design. It is made of aluminum and weighs about 26 pounds. Its battery can reach 15 mi. of autonomy and charges in about 4-6 hours.
Besides, the Kirin S1 is one of the first electric scooters of the brand that can be controlled with the Kugoo mobile application, through which we can control and adjust the parameters of the scooter as well as perform voice searches or use the mobile as remote control.
Kugoo S1 y S1 Pro: 
Off-road electric scooters
The Kugoo S1 and S1 Pro scooters are part of the brand's mid-range, with very similar features between both models. One of the characteristics that stands out the most in this series of scooters is that, unlike the previous one, the handlebars can be adjusted in height to be able to ride it comfortably. Both models have a 350 W brushless motor that can reach up to 18.6 mph. (with 3 speed levels at 9, 15 and 18.6 mph) and overcome slopes of up to 15 degrees.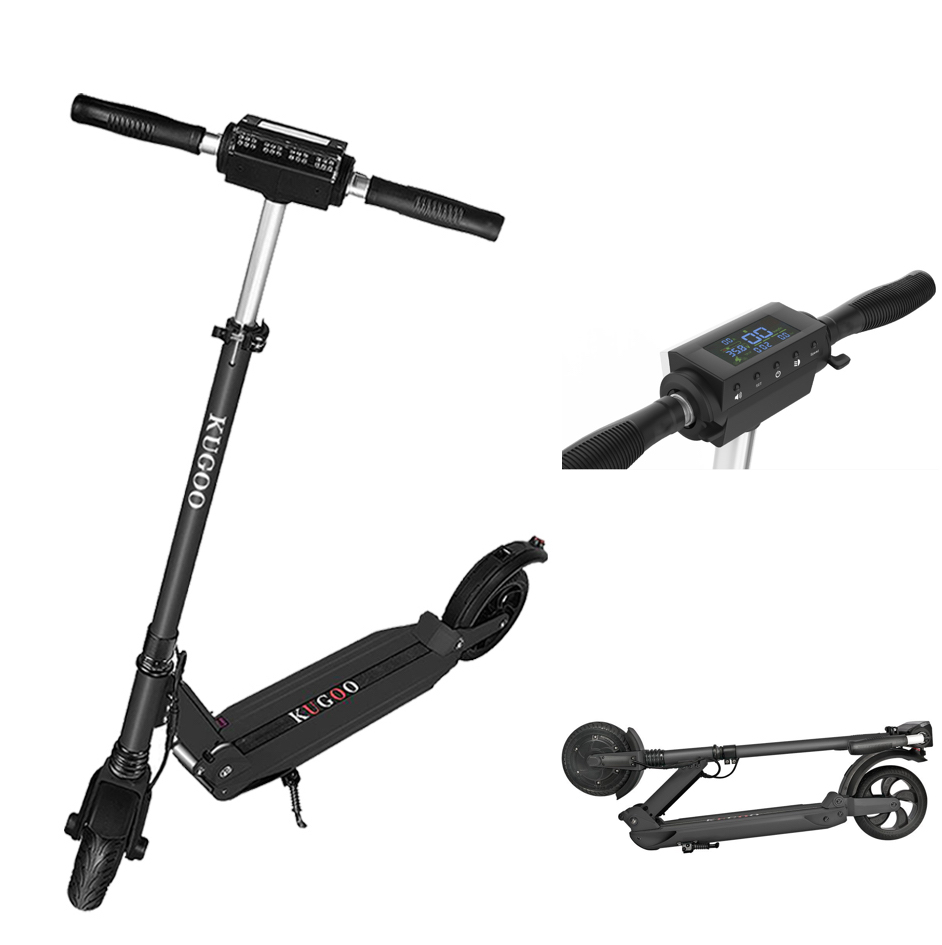 It can support drivers up to 265 pounds and has a double braking system. Its battery can reach 18-19 mi. of autonomy and a full charge lasts about 4 hours. They only weigh about 24 pounds so it is very portable. Its LCD screen indicates all the relevant information regarding speed, mileage, autonomy … This is important since it is not compatible with the mobile APP. The only difference between the S1 and S1 Pro is that the latter has 8.5-inch honeycomb wheels for better strength. You can see its price by clicking here.
Kugoo M2 Pro: the high-end of the brand's scooters
Finally, one of the best scooters of the Kugoo brand, the M2 Pro, which you can see at this link. It is a scooter with up to 18-19 mi. of autonomy and three speeds of up to 15 mph. Its 350W motor can operate on terrain up to 15 degrees of incline without complications. Although it is very similar to the Kirin S1, it has great improvements in the damping and safety system.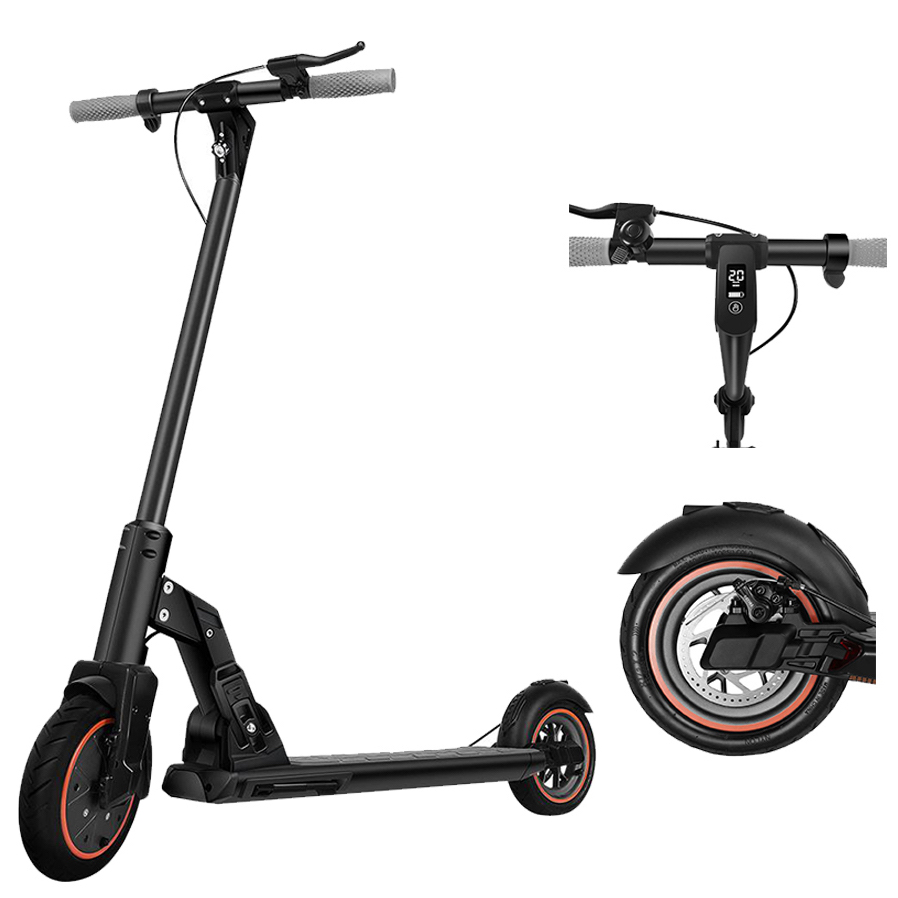 It has a fast and safe braking thanks to its double brake system (electric in the front and mechanical in the rear wheel) it can be completely braked between 3 and 5 meters. In addition, its pneumatic wheels provide a smoother ride that is complemented by its shock absorption system. Unlike the Kirin S1, it can support up to 265 pounds. It is also compatible with the Kugoo mobile application.
Our opinion: is it worth buying a Kugoo electric scooter?
In our analysis we have focused on the most interesting electric scooters for urban use, however Kugoo has some cheaper models and also others more powerful that may require registration according to the regulations of your country.
After seeing all the features offered by this brand, and especially its price range, it is clear that their scooters can overshadow Xiaomi. Perhaps the most popular models are the Kugoo S1 (and pro) and Kugoo Kirin S1 scooters, which have advantages such as more speed ranges, control screen and weigh less than its competitor.
How to buy lower priced Kugoo scooters on AliExpress
As you can see, these scooters have nothing to envy those of Xiaomi and their price is one of the reasons why they have more and more sales. Although throughout this review you can find some useful links, the best store to buy your Kugoo scooter is its official store in AliExpress, which you can access by clicking here. You can find all their scooters as well as accessories and spare parts.
If you want more tricks to buy safely on AliExpress, in our blog, besides analyzing the best products and news, we also have a section with tutorials where you can find tips and tricks to buy safely on this famous online sales platform. If you don't know where to start, in our Essential Buyers Guide for AliExpress you can find a summary of everything you need to know to buy from scratch.
What about you? Did you already know this brand? We would love to know your opinion, so don't hesitate and comment below about your shopping experience.