The original article we wrote focused exclusively on Louboutin shoes in AliExpress, but we've updated it with some extra information. The catalogue for comfortable high heels in AliExpress is amazing ,and you can find some real bargains (take a look here) so we had to expand our search.
At the end of the article you will find a section about Louboutin style heels in AliExpress, but firsts lets take a look at all the options AliExpress has to offer:
How to find cheap and comfortable high heel shoes in AliExpress
If you clicked on the link above (this one) you might have noticed the results are sorted by number of sales. This is the first thing you want to do to find the best bargains, you might find some obscure super deals, but as a general rule, you want to go with the general opinion.

How to filter by shoe type
If you can't find the shoe you are looking for among the best selling ones and you don't particularly feel like scrolling endlessly through pages, try taking a look at the filter on the left: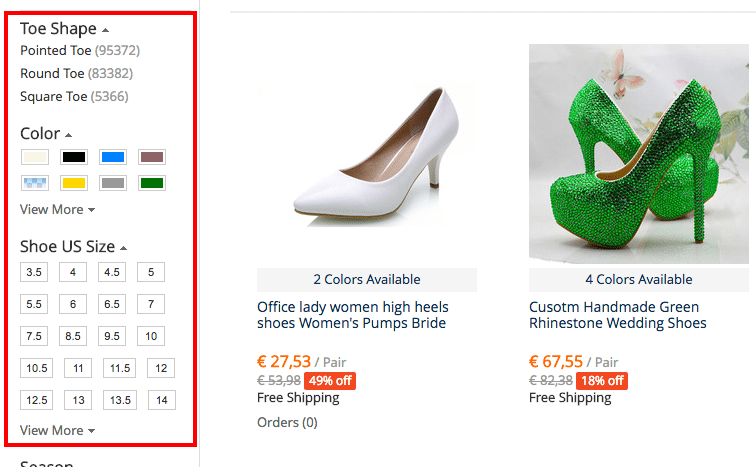 Here you will find some options to filter by:
Size and heel width
Shoes in AliExpress usually use American sizes. If you don't know what size you are in this system, take a look at this conversion chart: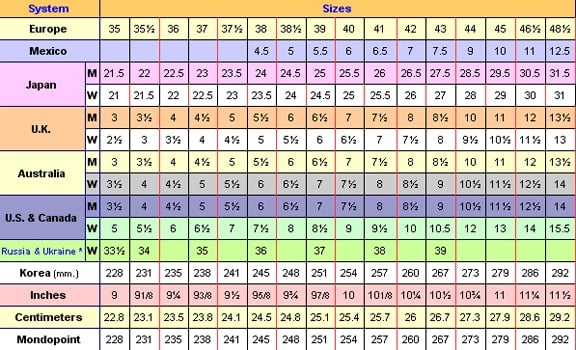 Nevertheless, sellers will usually specify under their product if their sizes are smaller or larger than usual.
Furthermore, there is now an option in the comments that allows buyers to select if the size is larger, smaller or right ("perfect") for other customers to know. As you can see, in this case its "perfect":

Filtering by color: black, red, white, navy blue, beige…
You can also filter the shoe by color (black, red, white, navy blue, beige…) by clicking on the color in the color menu:
This being said, I wouldn't put much faith in color filters…
Filtering by model: ballroom, sandals, mary jane, d'orsay…
This is probably the best way to filter high heel shoes. The filter looks something like this: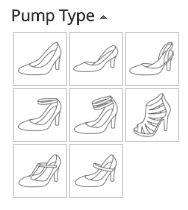 Types of shoe available:
Basic

D'Orsay

Open pump

With ankle strap

Gladiator

With a T strap

Mary Janes
Filtering by heigh: high, medium and low heels
You can also filter the shoes by heel height: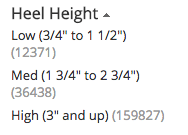 To know the specific height you are going to have to look a bit further, the specifications usually going from "X to X cm", but if you check a the bottom of the product page, sellers will specify the exact height.

But, are they really comfortable?
Given that there are thousands of sellers offering pumps in AliExpress, it's a pretty hard question to answer. Our advice is that you choose a product with plenty of sales, so you can go and check comments left by previous customers.
This is the best way to make sure those cheap pumps you love are also comfortable, and not a new torture device for your feet.
Are there any heels for girls?
If your daughter is begging for some heels to play dress up (or maybe your adolescent is nagging you for some :)) you should know there isn't a specific category for girls, but you can use the size filter at the left of the page to select the ones you are looking for: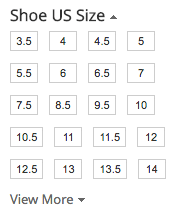 As you can see, the smallest size in the American measurement system is 3.5, something like 33.5 in the European one, that is a girls size. If you are looking for something even smaller, you can try asking the sellers via chat. Try starting with the ones with more ratings and antiquity, there is a chance they are connected to a factory and will be able to tailor some in the size you want.
Bonus: Cheap Louboutin style shoes
If you are interested in finding shoes (both pumps and sneakers) inspired by Louboutin, you can find tons of sellers in AliExpress offering Chinese clones (they aren't replicas, they don't feature the original logo) for super cheap.
To find Louboutin style heels, try looking for Red Bottom Shoes, for shoes with rivets look for Rivets Pumps, and for mens sneakers try Loubis Shoes.