Attention future moms! Do you need help finding cheap maternity clothes online? In today's guide we are going to help you find maternity clothes available on AliExpress, one of the best platforms to find these clothing items.
Why? Easy, Chinese sellers and shops offer maternity clothes at great prices, much better that you'll find anywhere else. We'll be looking at the best shops and show you some of the most modern and fashionable maternity clothes available at the moment.
How do I find maternity clothes on AliExpress?
You have a few options to find this type of clothing but, as we all know, time is of the essence when you are waiting for a child and we don't want you to have to waste any looking for them, so here at AlixBlog we are going to show you some tricks and give you some advice to make your search a lot quicker and easier.
One way to find maternity clothes is to go to the AliExpress categories. Click on Babies and then on Maternity. Then type in the word "maternity clothes" to find tons of results. In fact, there are more than 4000 results.

Another way to find them is to use acronyms or key words. Go to the homepage and type in any of the following terms to find tons of maternity clothes and sellers.
If you click on any of these words you'll find tons of results. Now all you have to do is filter by price, novelties or sales. It all depends on what you are looking for. Heads up: there are thousands of results. Dresses, shits, coats, blouses…anything you can imagine at the best price possible. In fact, AliExpress is known for being one of the cheapest online clothes stores.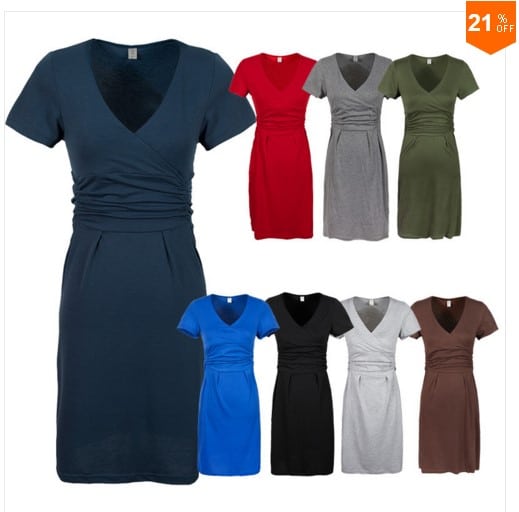 As you can see in the image, a lot of sellers also offers discounts and special offers, so keep an eye out for them. Keep in mind that AliExpress is already cheap, so imagine what kind of prices you can find with a 20% off! You are going to have trouble choosing, and do hurry, nice things run out fast!
Many of our readers have also asked us if AliExpress has maternity clothes for specific seasons, such as summer and winter. Of course, so we've gone ahead and created a specific list for both winter maternity clothes and summer maternity clothes. All you have to do is click on the links to see all the platform has to offer.
The best shops to purchase cheap maternity clothes on AliExpress
As we mentioned before, there are thousands of sellers offering maternity clothes. I'm sure if you clicked on any of the previous links you already noticed just how many there are. However, there are better and worst shops. In fact, AliExpress shops are rated according to certain parameters to help future customers get a better idea of the reliability and safety (and the quality of course) of the products offered.
Here you have a list of the best sellers. We are fully aware of how stressful and busy this time is for you, so we've gone ahead and selected some of the best rated shops with maternity clothes in their stock. If you purchase from any of these, you won't have any problems with your order.
Other advice on finding cheap good quality clothes for pregnant women
To make sure you are making a good purchase, take a look at the following three premisses.
Seller's reputation: There is a difference between making a purchase from a shop with one medal and one with diamonds or crowns. All the shops we listed above are very well rated so you won't have any problems. However, check the market and make sure the shops are well rated by various customers. This is the best way to ensure your purchase is good, and do remember that you might also find some good shops that are still too new to have any good ratings.
Number of sales: to know if a seller is completely trustworthy, check the number os sales. The more sales the shop has, the better it is.
Comments and reviews left by previous customers: this is yet another way to ensure the item you are getting is trustworthy. Read comments and reviews by previous customers, then make your decision or write to the seller directly, if you are still having doubts.
As an extra, you can take a look at our guide on how to find cheap baby clothes on AliExpress.
Sizes in AliExpress
AlixBlogger Advice: Sizes may vary from one seller to another. In fact, there is no universal size system, so each time you purchase a product, make sure you are getting the right size. To do this, take a look at the size chart provided by each seller on their page. Here you will also find some extra information on how sizes work and how to ensure you make the right conversion. Take a close look, and, if you still can't figure it out, contact the seller directly. You don't want to have to spend weeks trying to return an ill-fitting item 😉