Nowadays it is becoming easier to clean professionally at home. Ozone is a molecule that contains three oxygen atoms, but it also has great properties when it comes to disinfecting the air around us, as an eliminator of bad odors and is also widely used for water purification. However, it cannot be stored or transported, so the only option to use it is to use an ozone generator.
Many professional cleaning companies use it for its great results, so if you want to use it at home without spending a lot of money, you better continue reading, since today we will explain how to find cheaper ozone generators (also called ozonators) in AliExpress, the famous Chinese online sales platform.
What is an ozonizer and how to use it for cleaning your home
Ozone is a gas that destroys viruses, toxins, and bacteria that generate bad odors and pollute the air. As it is a gas, it reaches all parts of the room effortlessly. In water it has the same effect, eliminating odors and flavors without altering the pH or adding chlorine. To use it, we will simply need an ozone generator machine that converts oxygen (O2) into ozone (O3).
Although it is a type of disinfectant that is used in industrial environments and large surfaces, it can also be used at home, where it can be very useful to eliminate unpleasant odors, purify the air or clean all types of surfaces using ozonated water that replaces chemical products. which is ideal for people with sensitivity to them.
Top 5 ozonizers (ozone generators) on AliExpress
The properties of ozone as an antiseptic cleanser are not a myth, they are proven and certified. Before, it was very difficult to find small domestic generators, but today, thanks to advances in technology, there are very compact ozonizers with less electricity consumption. Although they can be easily found on AliExpress by clicking here, we have selected the top 5 taking into account their capacity, quality, and consumption.
1. Compact ozone generator
If you are going to give occasional use to your ozonator, it is best to buy a small one like the one you see below. It is a very complete model in which we can program an operating cycle and working time, so that it can be switched on repeatedly and eliminate recurring odors. It can work between 0 and 30 minutes and cycles of 1 to 12 hours can be programmed. It consumes 7 W and has an ozone output of 200 mg / h, it is effective in bathrooms, kitchens, or small bedrooms.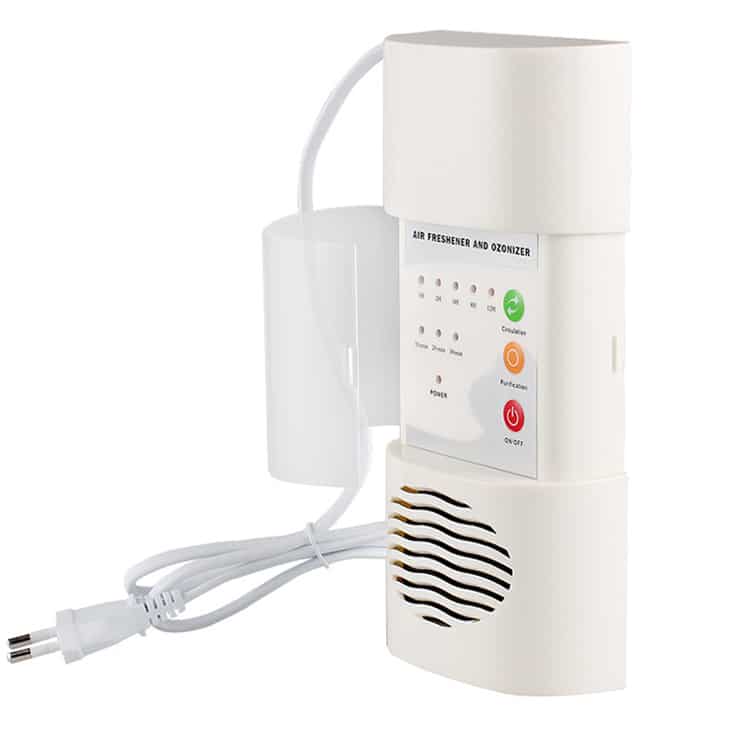 2. Low-priced high flow ozonator
Although it is not the most aesthetically pleasing, the ozonator that you see below can purify the air of larger rooms thanks to its high flow rate of up to 10 g / h and its low price. This is possible thanks to its high efficiency, with an energy consumption of 100 W. It is quite small, it measures 146 x 56 x 80 mm and the best thing is its price because you can find it for less than US$ 30 by clicking here.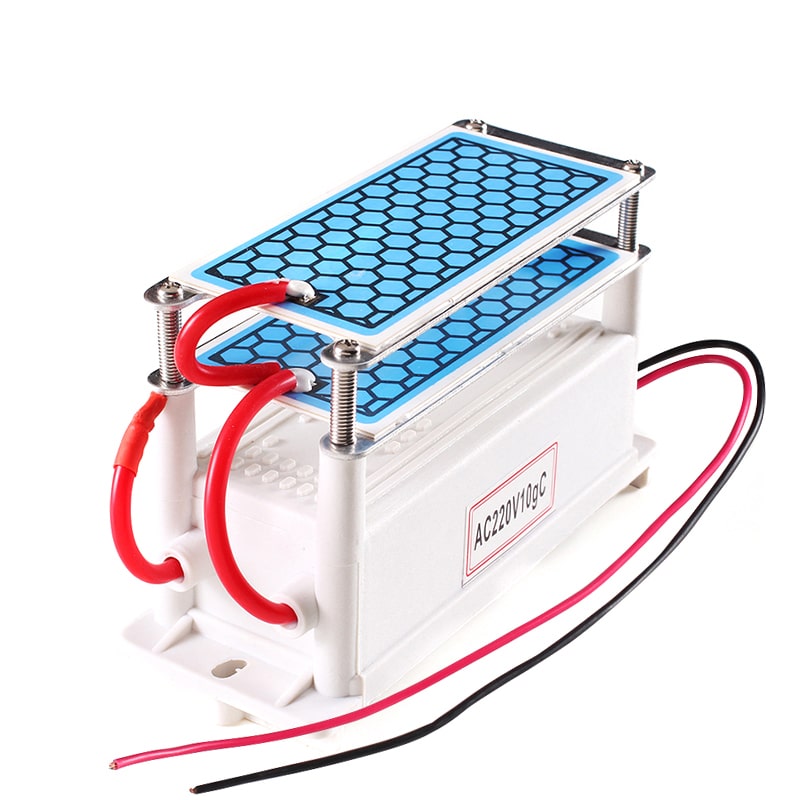 3. Mini ozone generator
Portable ozone generators are very practical for purifying the air in small spaces or using them in the car, at work or in the refrigerator. It has an air outlet capacity of up to 5 mg / h and a very low power consumption of only 0.4 W. It can run for up to 15 hours continuously thanks to its battery that can be easily recharged via its USB port. It can run continuously, in 30-minute cycles or for 8 hours with 10 minutes of work and 2 minutes of rest. Find it at this link.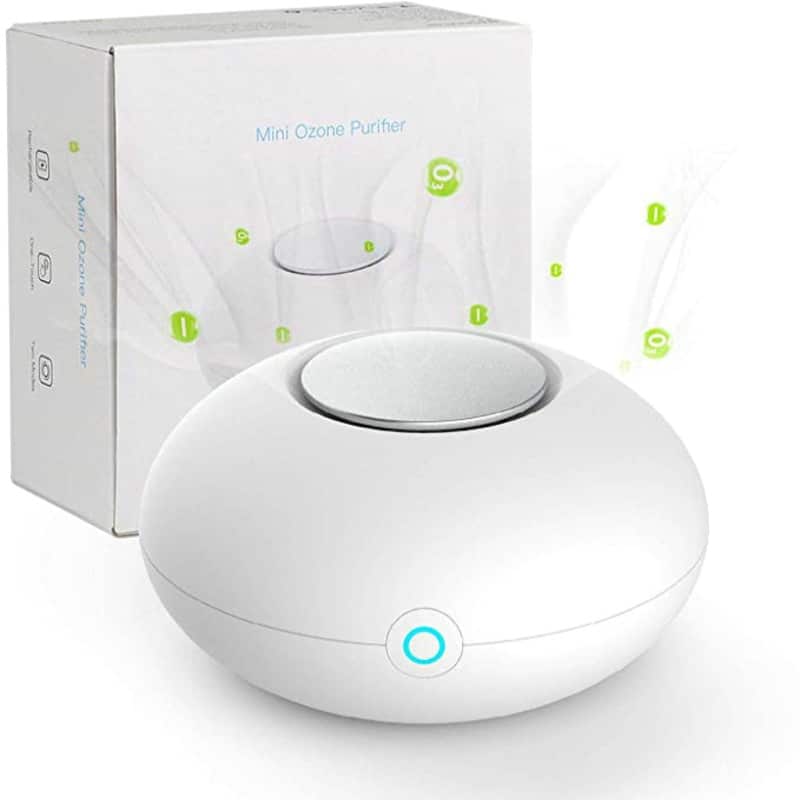 4. Large ozone generator with timer
But if you want a large capacity ozonator that you can use and move from one room to another easily, it is best to choose one like the one you see below, with a sturdy metal box and a handle to move it. It is a silent and efficient generator, with a production of up to 10 g / h and a consumption of 110 W. It is somewhat heavier than the previous ones, with 1.8 kg and a size of 200 x 180 x 150 mm. The best thing is that it has a practical timer of up to 60 minutes. You can find it by clicking here.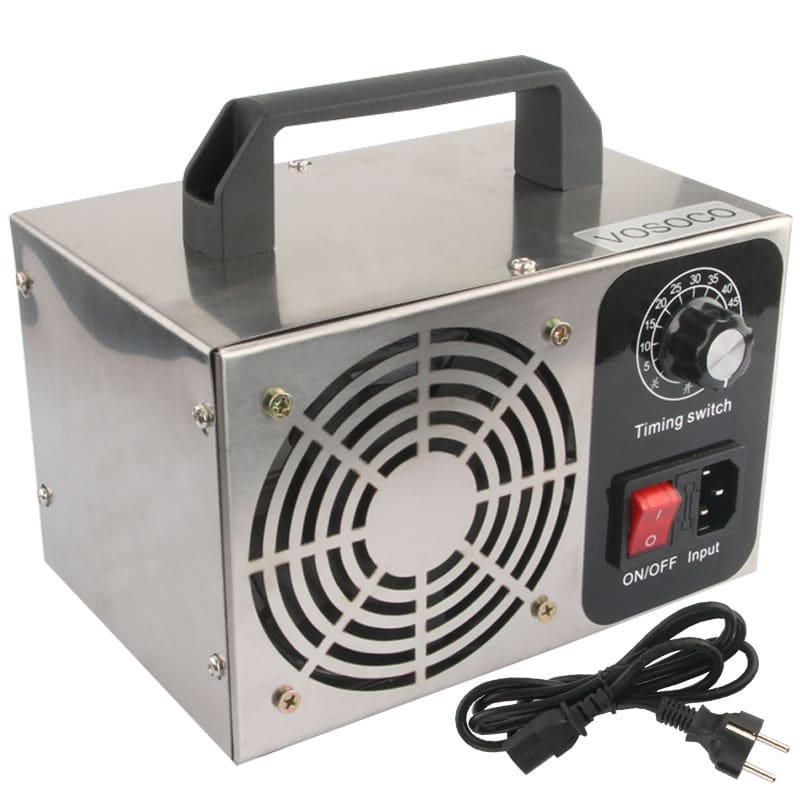 5. Ozone purifier for water and for air
So far we have showed only ozone air purifiers, but you can also purify water with ozone, which is very practical to clean fruits or any surface in our home, without having to use bleach. The best thing if you are interested in an ozonator that can be used in water is to purchase a mixed one (it can be used for water and for air). This one that you see below is very practical because it has a screen to program it. It has a flow rate of up to 500 mg / h with a consumption of just 18 W and only weighs 1 kg.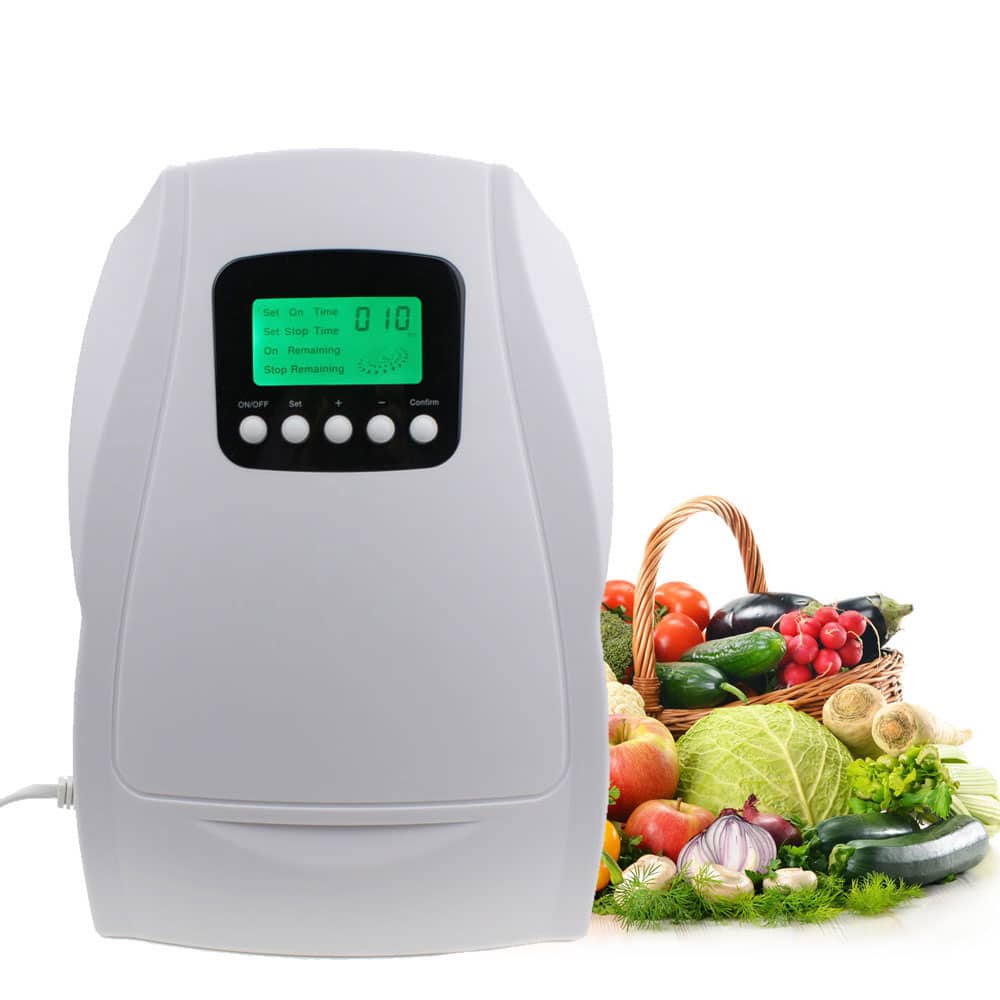 More tips and tricks for buying on AliExpress
As you can see, AliExpress ozone generators are very practical and there are a wide variety of models, so you can choose the one that best suits your needs.
If you have other doubts or questions about how to buy on this online sales platform, in our blog, in addition to analyzing the latest launches and the best products, we also have a section with tutorials where you can find our best tricks and tips to buy safely: what payment methods can be used, how to track your orders, what are the coupons and discounts available…
And you? What do you think of these ozone generators for cleaning? We would love to hear your opinion, do not hesitate and leave us a comment below with your shopping experience.