A painting can change the whole look of a room or a living room turning it to a stylish and elegant space. But, how do you find the right painting without spending all your money? Simple, AliExpress has a wide range of original and modern paintings to decorate your home or office, without breaking the bank! You can find all sorts of paintings, hand painted, printed on canvas, metal posters, triptychs, vintage, abstract or realist…All of them for incredible prices! So if you are looking for something original and modern to put the finishing touch in your room, AliExpress is the answer.
In the previous article we told you about finding decorating vinyls for your house. Today we are going to tell you how to find paintings that are both cheap and original in AliExpress. As well as recommending some good decoration shops. 🙂
Buying modern paintings online
Buying a painting in a physical shop can be somewhat time consuming and limit the options you have. Considering all the things you have to take into account, such as size, design, style, textures, etc., being limited is never a good thing. That's why, in this case, internet shops might be the answer.
In AliExpress you can find a wide range of shops offering paintings. We've looked into them and made a selection of the best shops to find paintings, be it modern, classic or abstract you'll find exactly what you are looking for in AliExpress.
The best painting shops in AliExpress
Home Decoration Paintings Store – This shop has an excellent reputation (4 diamonds) and has a wide range of modern paintings to decorate any kind of space: for the kitchen, bedroom, kitchen, living room or bathroom.
HOME BEAUTY Painting – This shop also has good ratings (4 diamonds) and you can find a lot of metal posters and paintings.
Shenzhen Shanghai Painting Craft Co., Ltd. – This shop, with 2 diamonds, has decorative paintings for everybody: modern, classic, abstract… it even has a selection of famous painters such as Klimt, Monet, Picasso, Leonardo Da Vinci, etc.
Cheap Posters, tin posters, licenses…
In AliExpress, you can also find a countless amount of affordable classic metal prints to give your house a retro look (old Coca-Cola posters, gas stations, cars, car oil brands, route 66, Harley Davidson…).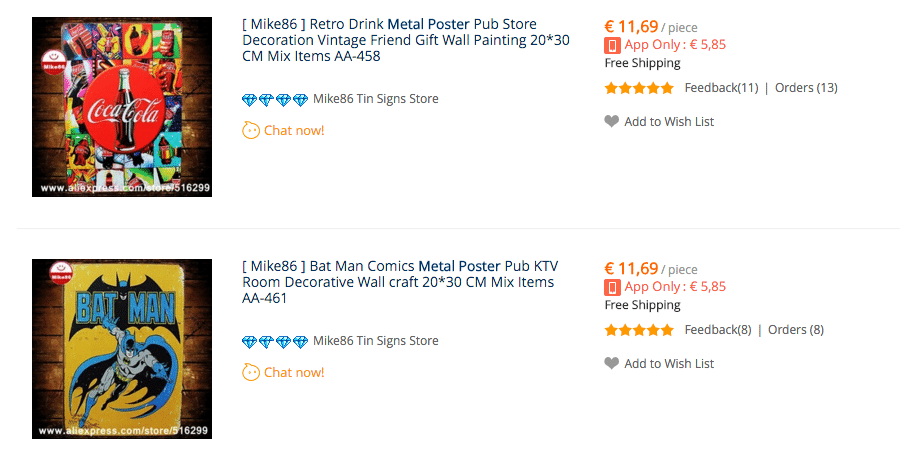 To find tin posters just use one of the following key words:
Band and movie posters
Obviously, you can also find normal posters for very cheap. They have all kinds, from movie ones, to famous bands, comics, and even video games. Here are some of the acronyms.

Advice on buying decorative paintings in AliExpress
Once you find a painting you like, make sure you keep an eye on these things:
The shop's reputation: our advice is that you always look for sellers with at least a diamond, this will guarantee the shop is safe and trustworthy.
Comments and ratings left by previous customers: it's a good guide to what kind of product you can expect.
The products description: it's very important to pay close attention to the description of the product offered by the seller. Being a painting, you might want to look carefully at the size, material (if it's printed or painted), weight, etc.
Return policies: just in case the painting doesn't really fit the room, make sure you check the return policy for each shop.
And, if you have any doubts, contact the seller directly!