Attention all drivers! You may be busy steering, but we know how tedious long (or short) car trips can be, especially for passengers, so why not make it easier on everybody? AliExpress also offers portable DVD players for cars, so you can turn any car trip into a whole new experience, especially for kids, who will now be able to watch their favorite show or movie, or even use the screen to play or listen to music.
So, what are the advantages of buying a portable DVD in AliExpress? A lot, especially the price. In today's guide we are going to talk about how this device works, and how to find the best shops and offers on DVD players for cars in AliExpress.
What's a portable DVD player?
You may already know how these DVD players work, buy just in case, here at AlixBlog we are going to talk a little about how these screens, installed in the back of the car's headrests, work. You can even find screens that can be installed in the roof of the car, although they are harder to find and tend to be a feature of the car when you purchase it.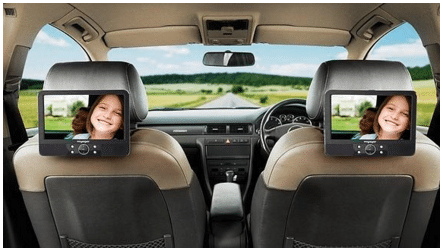 Features of the DVD player
As a general rule there are two screen models: the 7 inch one and the 9 inch one, both with a 800×480 resolution. It may not be high resolution, but it's definitely good enough to watch a movie. They come with a digital panel, clicker and built-in speakers (some of them also include headphones in the pack). They may also feature other functions such as a CD player or built-in radio, and of course USB and SD card ports.
They come in different colors to match the car upholstery and are super easy to install, by inserting two screws (mobile or fixed) in the headrest. It takes less time than the credits of your favorite movie or series, which you will now be able to see in you car!
Compatibility with different car brands
One of the questions we get asked more often about portable DVD players is how compatible are they with different car models and brands. Not to worry! Weather you have an Audi, BMW, Chervolet, Honda, Kia, Mazda, Mitsubishi, Nissan, Suzuki, Toyota, Hyundai, Volkswagen, Volvo, Peugeot, Renault or any other car… this device can be installed in mere minutes 🙂
How to find cheap DVD players for cars in AliExpress
AlixBlog Advice: Before getting into the different aspects of finding a DVD player for you car headrest, make sure you don't accidentally purchase a similar product, a camera monitor for parking. To tell them apart, make sure you pay attention to the description of the product (it should be clearly stated here) and if you are still unsure, check the price, this product is much cheaper than a DVD player.
To find the cheapest DVD players, type in any of these key words in the AliExpress search tab. There are other ways of finding them, but this is definitely the easiest one.
You'll find plenty of results for DVDs for headrests with any of these key words. Just take a look and choose the one best suited to you. The price also varies quite a lot depending on what screen it features, but sellers in AliExpress have the best offers in the market. We've found some for half the price than in regular stores. So, no matter which one you choose, you are going to be saving money. Just make sure you always check the description closely.
Another thing you might want to keep an eye out for is that some sellers offer pack of 2 screens for both car headrests. If this is what you are looking for, you can definitely find some good deals. It may not be a 2×1 deal, but it's absolutely worth seeing both your backseat passengers happy.
In this link, you can find the most popular car DVD player in AliExpress, an all-time best seller.
The best shops to buy car DVD players in AliExpress
Finally, here are the 4 best shops to buy DVD players for cars. Don't forget to check the seller's reputation, number of sales and comments left by previous customers, and if you are still feeling unsure, contact the seller directly. They will be more than happy to answer any doubts you might have and may even send you pictures of the original product.
Without further a do, here are the best shops:
Guangzhou Duntuo Auto Accessories: 3 diamonds. A wide range of DVD players, with prices that go from 150 to 300 euros.
DIY-STORE: 3 diamonds. This is a very good electronics and car accessories shop. Take a look around to find the cheapest screen or the best fitted one to your preferences. They almost always have discounts.
EinCar Electronics: 2 diamonds. The screens they offer include Android technology that will allow you to play games and have features similar to those on a tablet. They may be pricier, but they are definitely worth it.
Shenzhen Pumpkin Electronic technology: 2 diamonds. This is one of the best shops for this kind of items in AliExpress. Trustworthy and with incredible prices.
In our experience a shop can be considered good if it has at least a diamond. In this case, all of the ones we mentioned have higher ratings, so you shouldn't run into any problems with them. And, if by any chance you do, make sure to leave us a comment telling us about your experience. Happy hunting!