If you are a regular on AliExpress, surely at some point you have seen QCY brand headphones. It is a brand of Chinese origin that offers headphones that are very little known outside their country, but they are very worth it for their good value for money, which is why they are becoming very popular among AliExpress buyers. Among all its models, the "airpod" style wireless stand out, but we can find all kinds of headbands and headphones. Today we are going to analyze the best sellers to see if they are worth it.
QCY, a brand specialized in audio products
QCY has become well-known thanks to the quality of its products. Their official AliExpress store, which you can access by clicking here, has been selling audio products since 2014, although the company was founded in 2003. On AliExpress, it is among the "Top Brands", a distinction that is given only to stores that month after month demonstrate their excellent customer service, as well as quality products.
Their products go through strict quality control (thermal shock, explosion resistance check, battery life check…) and have multiple international certifications (RoHS, CE, FCC…). We are talking about headphones and headbands of tested and certified quality.
Wireless Sports Headphones
The best-selling headphones of this brand are undoubtedly the in-ear sports style, that is, those that are inserted into the ear and in this case, are connected to the devices via Bluetooth since they do not have a connection cable. QCY has up to 7 different models as you can see here, all have a price between US$16 and $24, taking into account that some have a great sound quality since they accept aptx sound profiles and all are resistant to sweat, we can say that they are very cheap.
The QCY QY19 are the ones that accumulate the most sales. They are sports headphones with a built-in microphone and ipx4 sweat resistance. It is compatible with aptX sound profiles, they have a sensitivity of 100dB and their autonomy in conversation is up to 5 hours. You can find them here.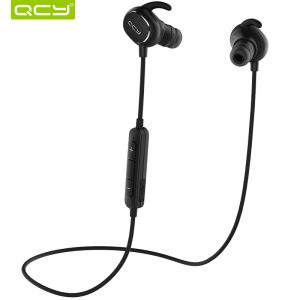 The rest of the brand's in-ear headphones have very similar characteristics, they simply have a different shape, so it is better to go into their store and choose the ones that we like the most. For example, others that accumulate many sales are the QCY QY31. Thanks to their design, they adapt perfectly to the ear and will remain attached in any situation, making them perfect for athletes. Besides, their autonomy rises up to 7 hours so we can use them in several training sessions before recharging them.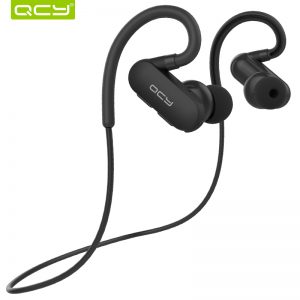 Wireless headbands
Headband or "over-ear" headphones are characterized by offering better sound quality, which is why they are ideal for music lovers: they isolate external noise and the larger size of their drivers means that they have a sound with more nuances than others.
One of the best-selling headphones of this brand is the QCY50 model, with a very minimalist design available in 3 different colors. They are designed to provide the maximum possible comfort, not only because of the great flexibility of the headband and headphones but also in their materials, soft and pleasant so as not to put pressure on the ears.
They have Bluetooth 4.1 which guarantees a reliable and stable connection, it also has DSP noise cancellation technology and is compatible with aptX profiles, which improves sound quality. Finally, they have a magnificent autonomy, we can listen to music for up to 12 hours in a row or 390 hours in standby thanks to its 200 mAh battery. You can find them for just over $23 here.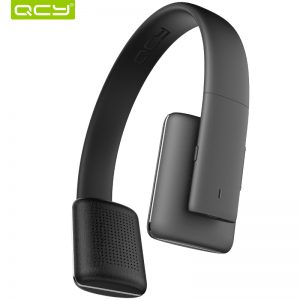 If you are looking for slightly more modern headband headphones, we recommend these, the QCY J1, with a style very similar to the "beats", with the round headphone and a folding design. They are available in 3 different colors with a metallic finish. They are wireless headphones with great autonomy, 40 hours using them continuously, or 1500 hours in stand-by. They also have a great advantage: they can be connected by cable to continue using them even if you run out of battery. In addition, you can also use them by inserting a TF card, to listen to music even if you do not carry your mobile. Its sound is of great quality allows listening to 24-bit music with a sensitivity of 108 db in Hifi quality.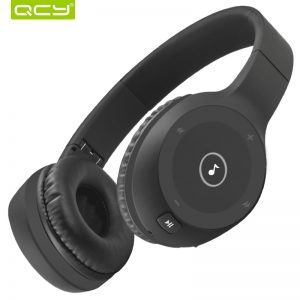 "Airpods" type wireless headphones
Currently, QCY only has one model of wireless headphones, QCY Q29, which you can find for just over US$ 20 here. In fact, we already talked about them in our article on Cheap Alternatives to Airpods on AliExpress. These headphones use TWS (True Wireless Stereo) technology by connecting both headphones and creating a stereo system with high-quality sound.
They are very light headphones, weighing about 5 grams per headphone and have an autonomy of up to 2 hours listening to music or 30 hours on standby. They can be charged by simply placing them in their box, which works like a power-bank, storing energy for up to 4 full charges. They have a high sensitivity of 96dBa, so high-quality sound is assured.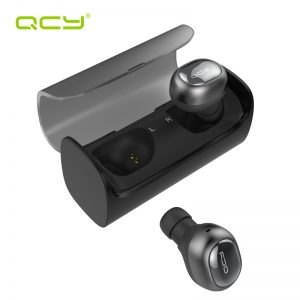 Hands-free
Finally, QCY also has a good variety of hands-free headphones with a built-in microphone. In fact, one of the best sellers is the QCY Q26 model, which is simply the same model that we just saw above, but instead of bringing 2 headphones, it only brings one. Another best-seller is this, the QCY Q8, a hands-free headset with about 4-6 hours of autonomy in conversation, noise reduction system, and an ergonomic design that adapts to the ear. You can also find other QCY hands-free headset models here.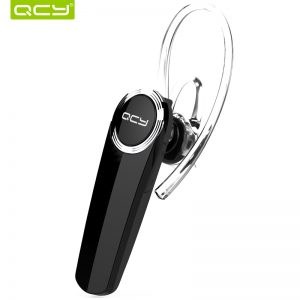 Where to buy QCY headphones and headbands
Above we have already left the link to the official AliExpress store. If you are reading us from Europe, the United Kingdom, Indonesia, Russia, Australia, or the United States, you may be interested to know that QCY also has an official store where it sells products from warehouses outside of China. You can access from this link and can enjoy national shipping (without customs risks), as well as faster shipments (you will receive your orders in less than 7 calendar days).
Tips and recommendations to save money on AliExpress
At AlixBlog we not only analyze the best AliExpress products, but we also have a section with tutorials where we explain the best tricks and tips to get discounts and buy more safely on this famous online sales page. If you don't know where to start, we recommend the Essential Buyers Guide for AliExpress, where you have a summary of everything you need to know before buying on this website.
What about you? Did you know about this brand? We would love to know your opinion, so please leave your comments below.