There are more and more gadgets that allow us to have better control of our environment while saving money. This is the case of thermostatic valves with WIFI, which allows us to create independent areas to make the heating of our home more efficient. They have many advantages, but the most famous valves like Netatmo or Tado are very expensive. Today we are going to show you inexpensive alternatives to these systems available on AliExpress.
Installation and advantages of smart thermostatic valves
Smart valves replace the traditional ones that you can find in your radiators, and thanks to its WiFi connection we can program and adjust the heating through a mobile app or even with voice assistants. We can act individually on each radiator. This will avoid unnecessary spending on heating rooms that we do not use or that are already hot enough.
Installing these valves is very simple. We just have to unscrew the old valves and fit the new one. However, for old manual valves, we may have to call a specialist. Depending on the type of smart valve, we may also have to change the thermostat for a compatible one.
Review of the best smart valves on AliExpress
These systems are becoming more and more popular, although, at the moment, the variety of brands and models is not big. The best known are those of Tado and Netatmo, but then we are going to show you the best economic alternatives, you can find them all by clicking here.
Low-priced programmable smart valve
We start with one of the best-selling smart valves on the entire platform, due to its excellent value for money, as each valve can be purchased for less than 35 dollars individually. Thanks to the SEA801 valve, which you can find at this link, you can transform your heating system for little money.
With a single controller, we can connect up to 10 valves. Its design is very compact, with a small LCD screen and only 5 buttons, although it is configured mainly through the Tuya mobile application. We can program the heating operation all week and it is compatible with Alexa and Google Assistant.
Poer thermostatic valves with voice control
Poer is a brand that specializes in smart thermostats, and their thermostatic valves have surprised us with their high quality. They allow controlling independently the radiators in our home. The controller is very small and allows us to control the radiators remotely via mobile.
On the screen, in addition to seeing the temperature, we will also see the relative humidity of the room. Through the application, we can receive alerts in case of very high or low temperatures. Thanks to the latest update, it is also compatible with Amazon Alexa and Google Home. The price varies depending on the frequency of the valve and controller, as you can see here.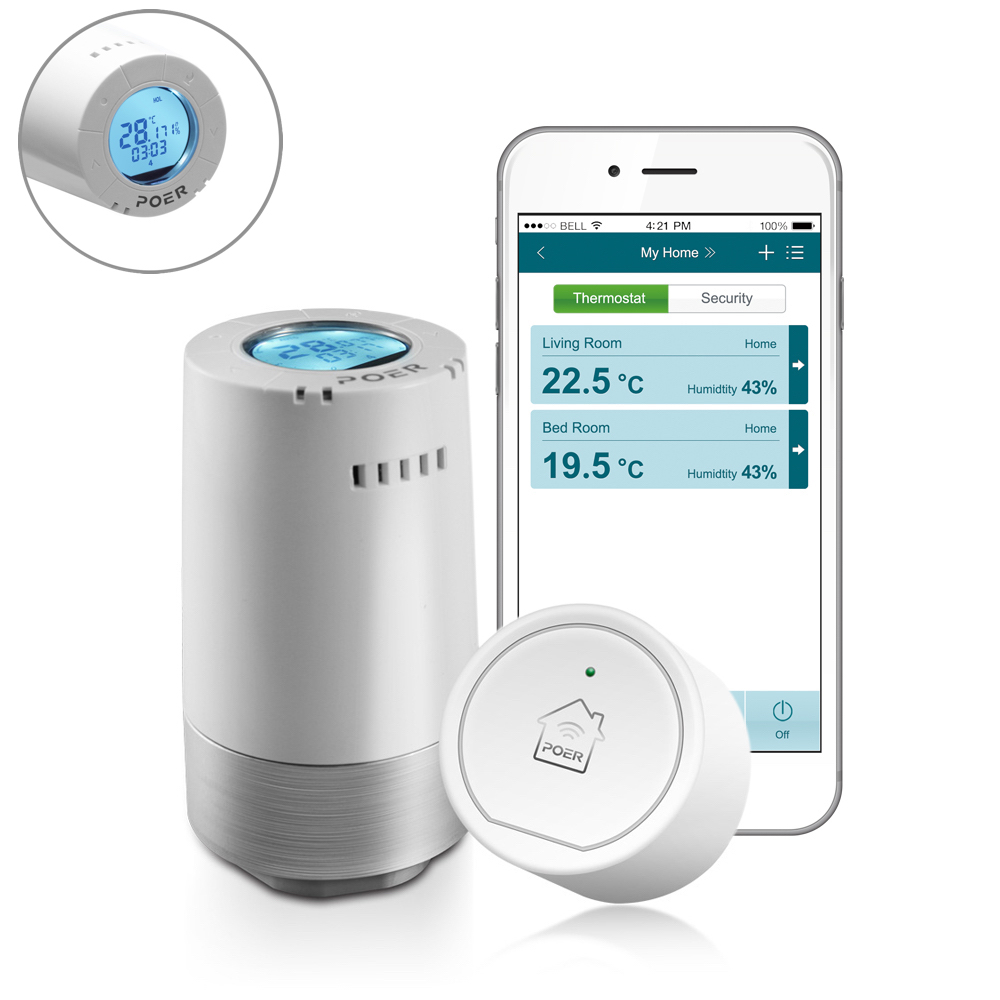 MoesHouse Smart TRV Smart Control System
MoesHouse is a brand specialized in smart home products. Among its wide variety of products, we can find these smart valves that work with Zigbee. Its design is far from the rest with a square format and a large screen that displays a lot of information, it can also be controlled through the mobile application or with voice assistants Alexa and Google.
It can be programmed in different periods and through the application, we can specify the comfort temperature, protection mode for children, the maximum and minimum temperature, or that the heating is turned off when an open window is detected. With a controller, we can control up to 50 valves.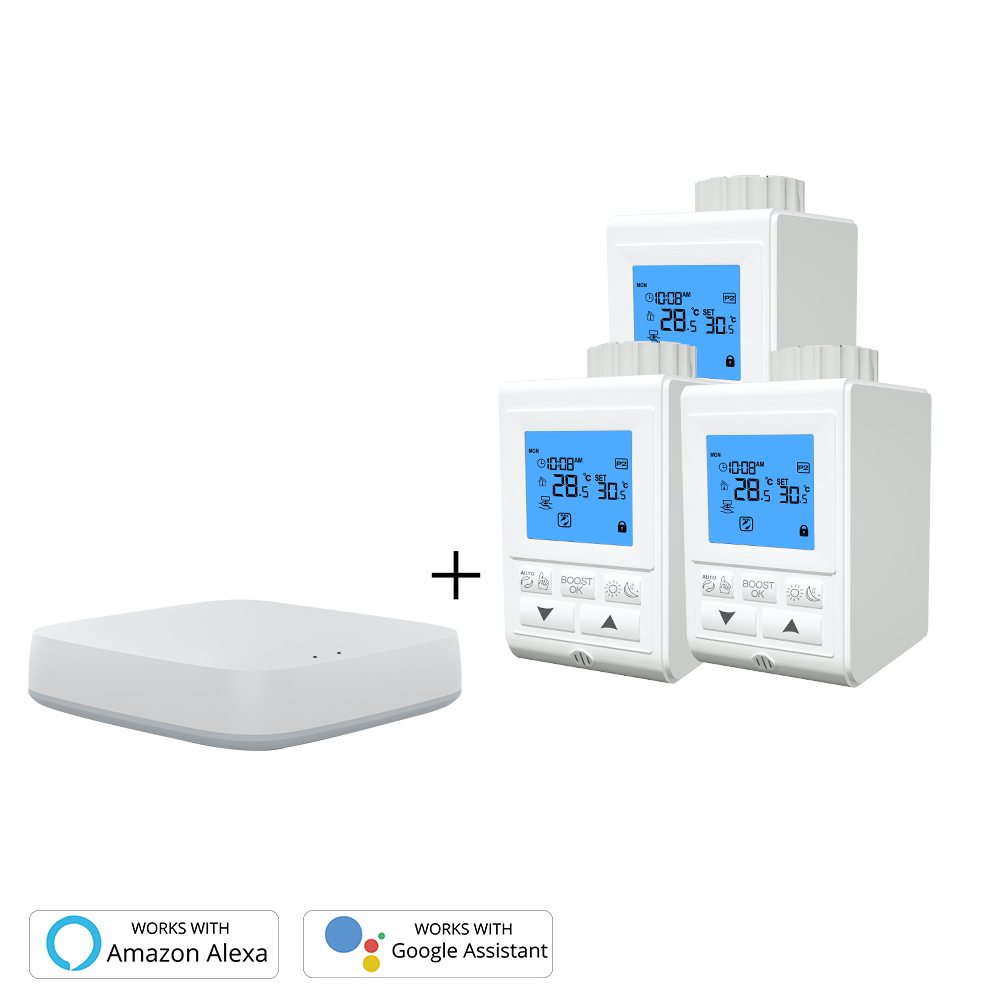 Meross thermostatic valve
If you are looking for a thermostatic valve from a reputable brand, Meross is very popular as an inexpensive alternative to Netatmo and Tado. Its starter kit, which you can find very cheap by clicking here, is a good option to begin with. As in the previous case, it includes an open window detection function to save energy.
Through the application, we can activate or deactivate the valve, and three temperature modes can be configured, including automatic and energy-saving modes. The hub is compatible with up to 16 radiators and has a good range, making it ideal for multi-story homes. In the head, we can see the ambient temperature. It runs on rechargeable batteries and is compatible with Alexa, Google Assistant, and IFTTT to automate tasks.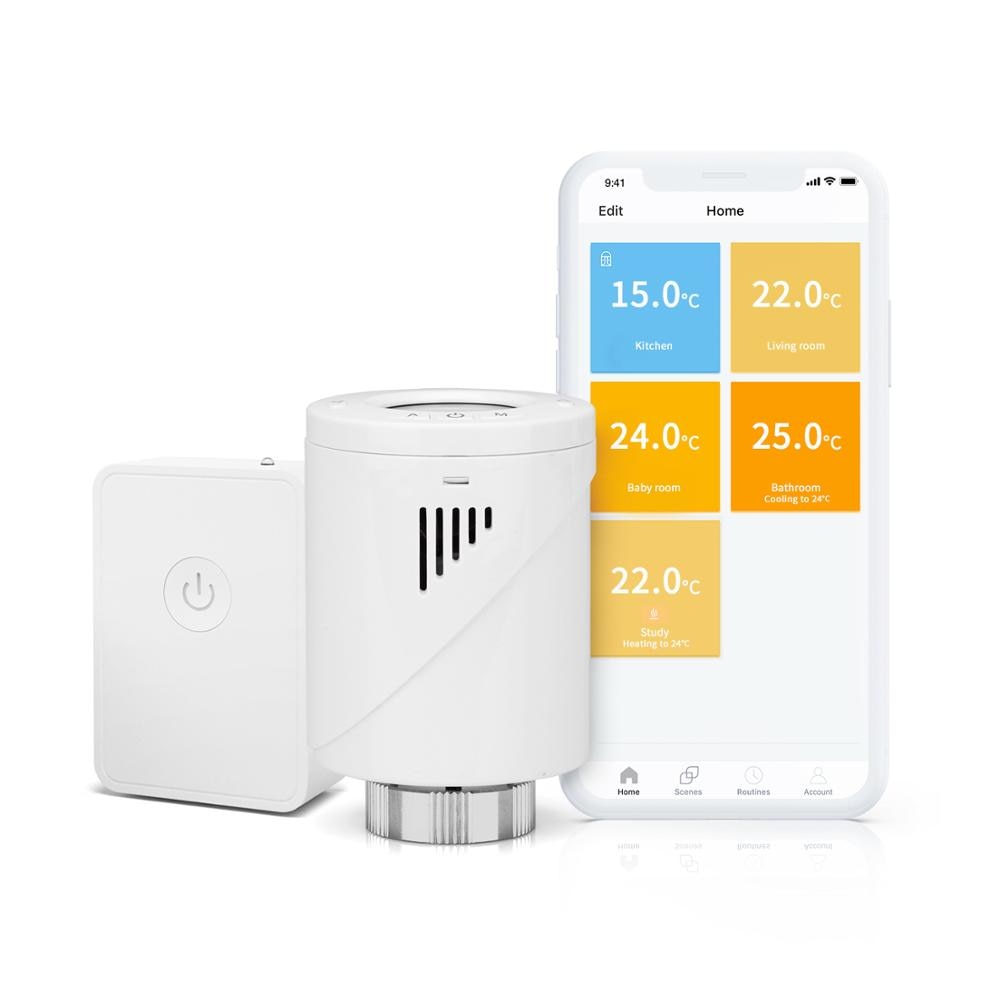 Our opinion on thermostatic valves and more tips for buying on AliExpress
As you can see, AliExpress smart thermostatic valves have nothing to envy to other big brands. They are an economical solution to your annual heating consumption. In a short time, you will amortize the investment. Another good alternative is to opt for a smart thermostat from AliExpress.
Now that you know the best valve models, you may have some questions about how this online sales platform works. AliExpress is one of the largest sales pages in the world, but you can get much more out of it if you know how it works. In our blog, we have an interesting section with tutorials where you will find more information.
We explain how to pay safely, what type of shipments sellers use, how to get coupons and discounts… In short, everything you need to know to buy safely. If you don't know where to start, in our Essential Buyers Guide for AliExpress you have a summary of everything you need to know to start buying from scratch.
What about you? Have you already bought any of these smart valves? We would love to hear your opinion, do not hesitate and leave a comment below about your shopping experience.