We are in the era of social networks, in which many people dream of becoming YouTubers. Until now, this dream was far from the reach of most people since it was not easy to have the necessary equipment. However, newer handheld stabilizer cameras like the Osmo Pocket have become a great option for shooting video.
How Portable Stabilizer Cameras Work
At first glance, they seem like a device with low resolution, but this type of stabilizer camera allows you to capture videos with a high resolution. Its mechanical stabilization system is what makes the difference, that's why it records better than a mobile with a stabilizer or a camera with digital stabilization, and they are so small that you will go unnoticed.
You just have to grab your camera and start recording. Some models have very interesting options such as the possibility that the camera moves automatically following the movement. It is the ideal device to record videos of family moments, travel, or start creating digital content.
Top 4 stabilizer cameras on AliExpress
The DJI camera is undoubtedly the queen in this sector, but there are very interesting alternatives available on AliExpress. We have selected 4-star models and we explain all their details below, you can find them all by clicking here.
DJI Osmo Pocket: the most popular stabilizer camera
We start with the most famous, the DJI Osmo Pocket camera. DJI is a brand known for its excellent image stabilizers and drones, but its Osmo Pocket has been a bestseller, especially among professionals and YouTubers who need a compact and lightweight camera.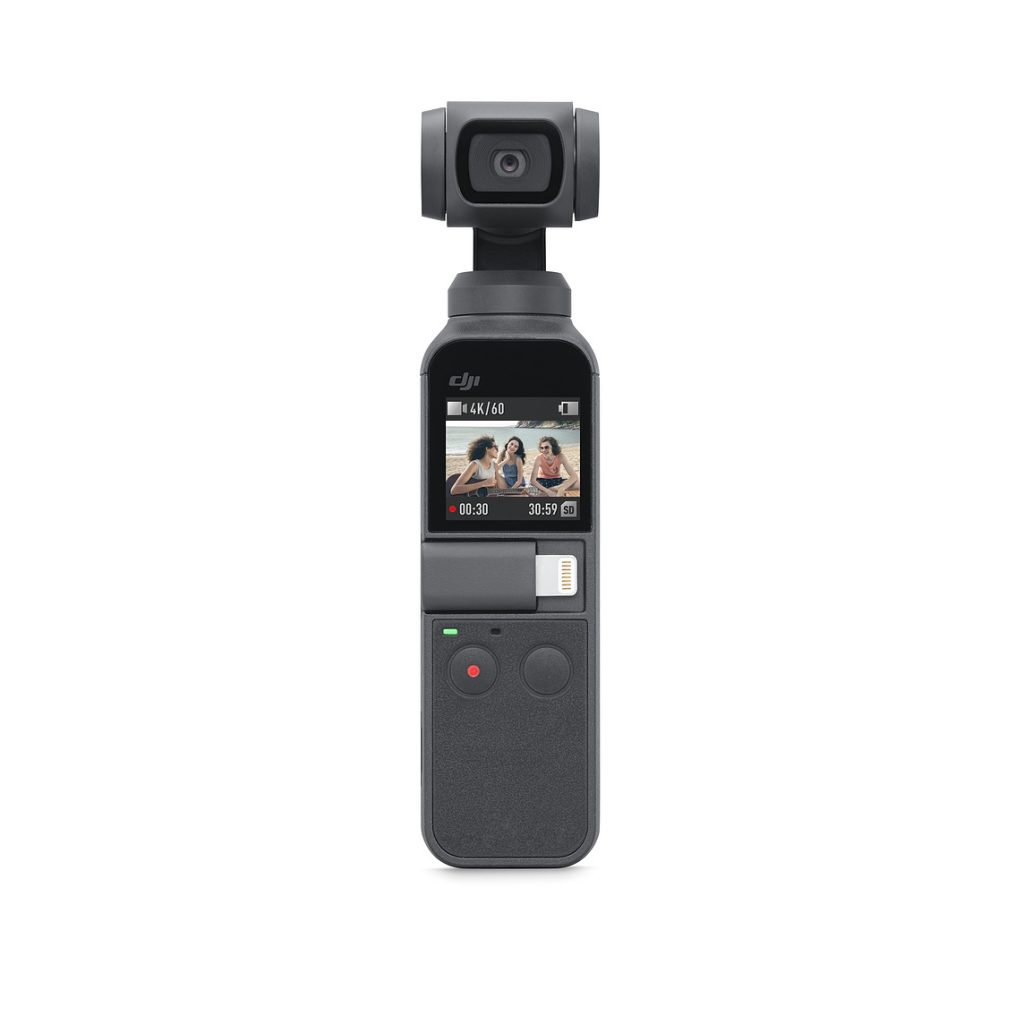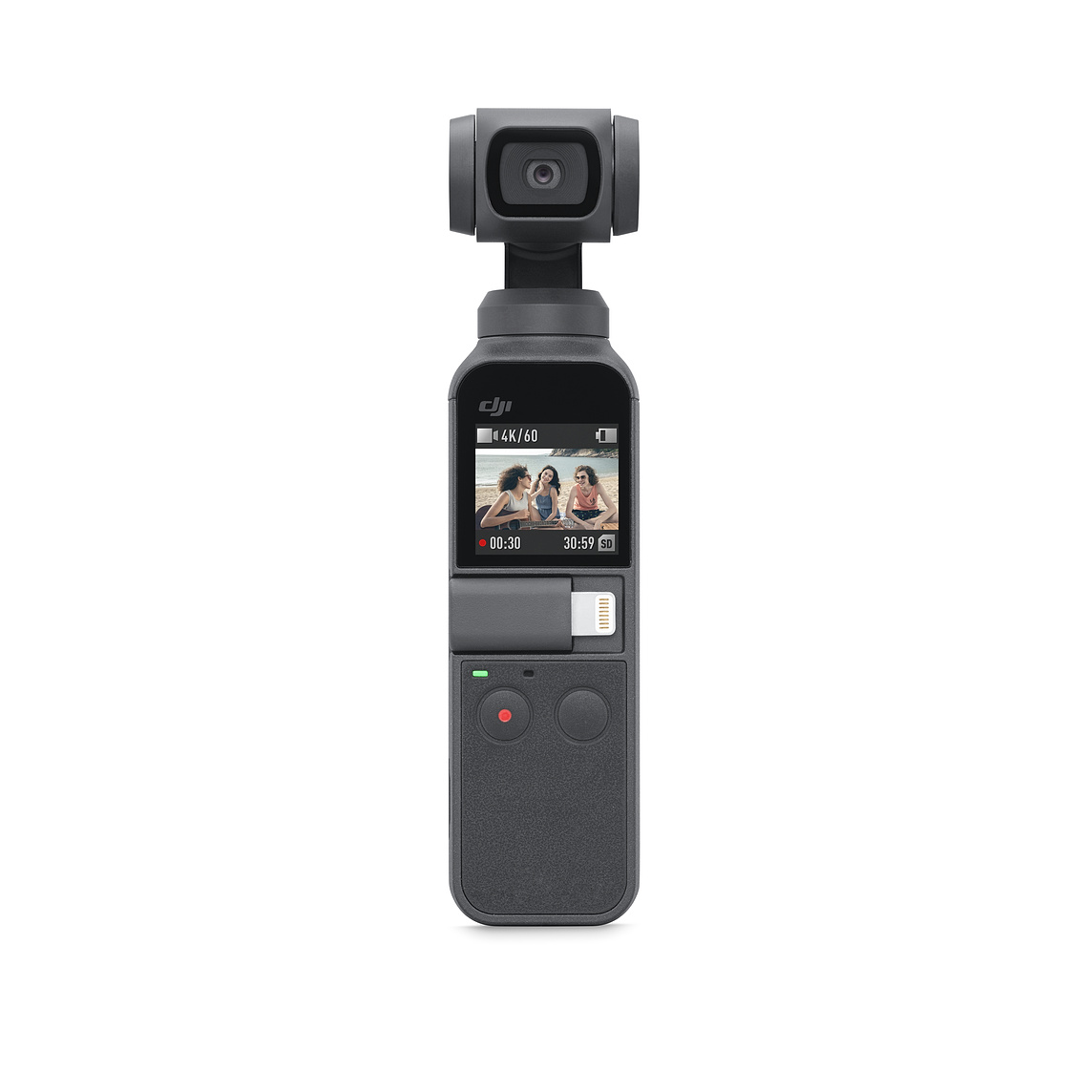 The secret of its success is its three-axis mechanical stabilizer, which corrects movements in real-time. It has a very compact size of 122 x 37 x 29 mm and a weight of 116 g. Its 875 mAh battery gives it a range of 140 minutes.
It consists of a main body where we find a 1.08-inch touch screen through which we can configure the recording, as well as two control buttons and a universal port to connect it to other accessories.
This body is attached to the camera by an articulated arm. The camera has a 1 / 2.3 ″ CMOS sensor with a field of view of 80º and an aperture of f / 2.0. You can take photos at 12MP resolution and record 4K / 60fps videos at 100Mbps.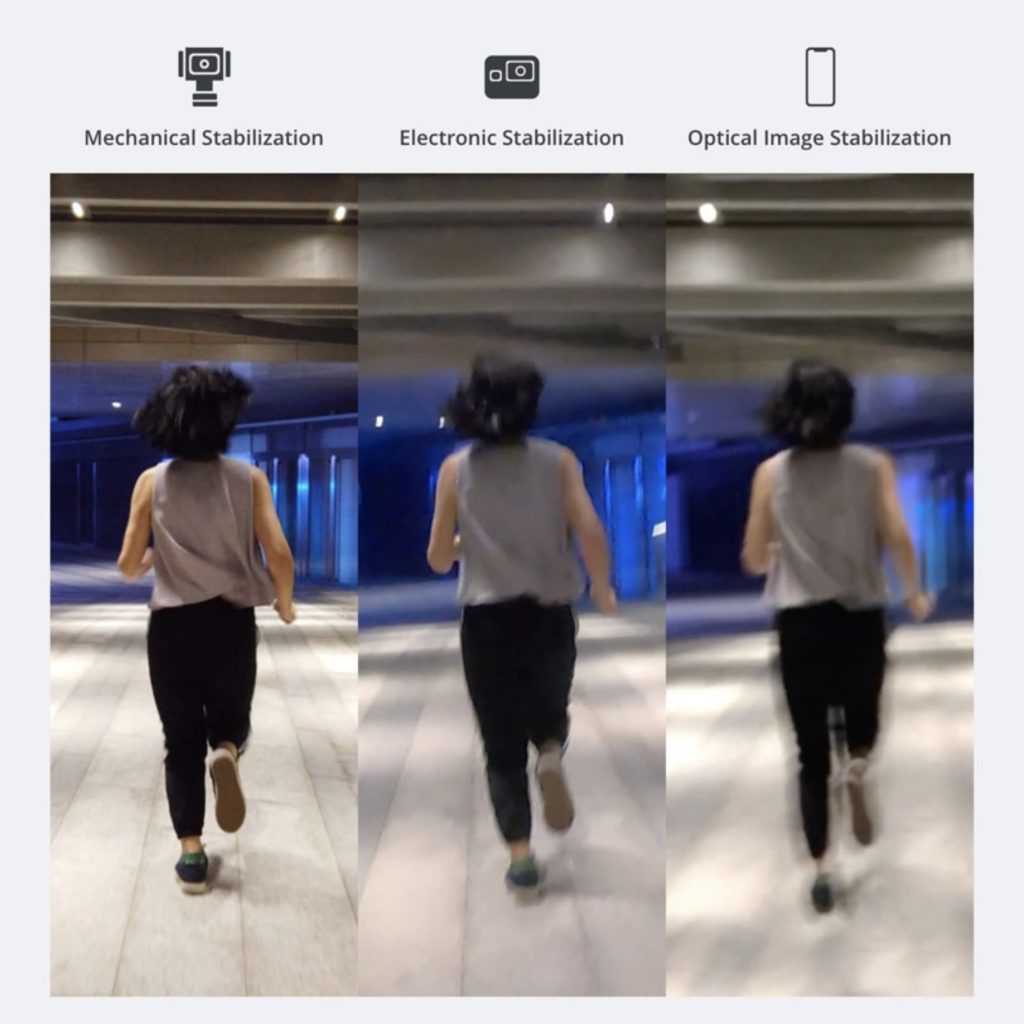 It has interesting recording functions. FPV mode follows the orientation of the gimbal and is ideal for action scenes. With ActiveTrack, the camera will follow a defined object. You can also create panoramas, timelapse, and detect night images to correct lighting.
On AliExpress, we can not only find the cheapest original DJI Osmo Pocket camera by clicking here. We can also find a lot of practical accessories from this link.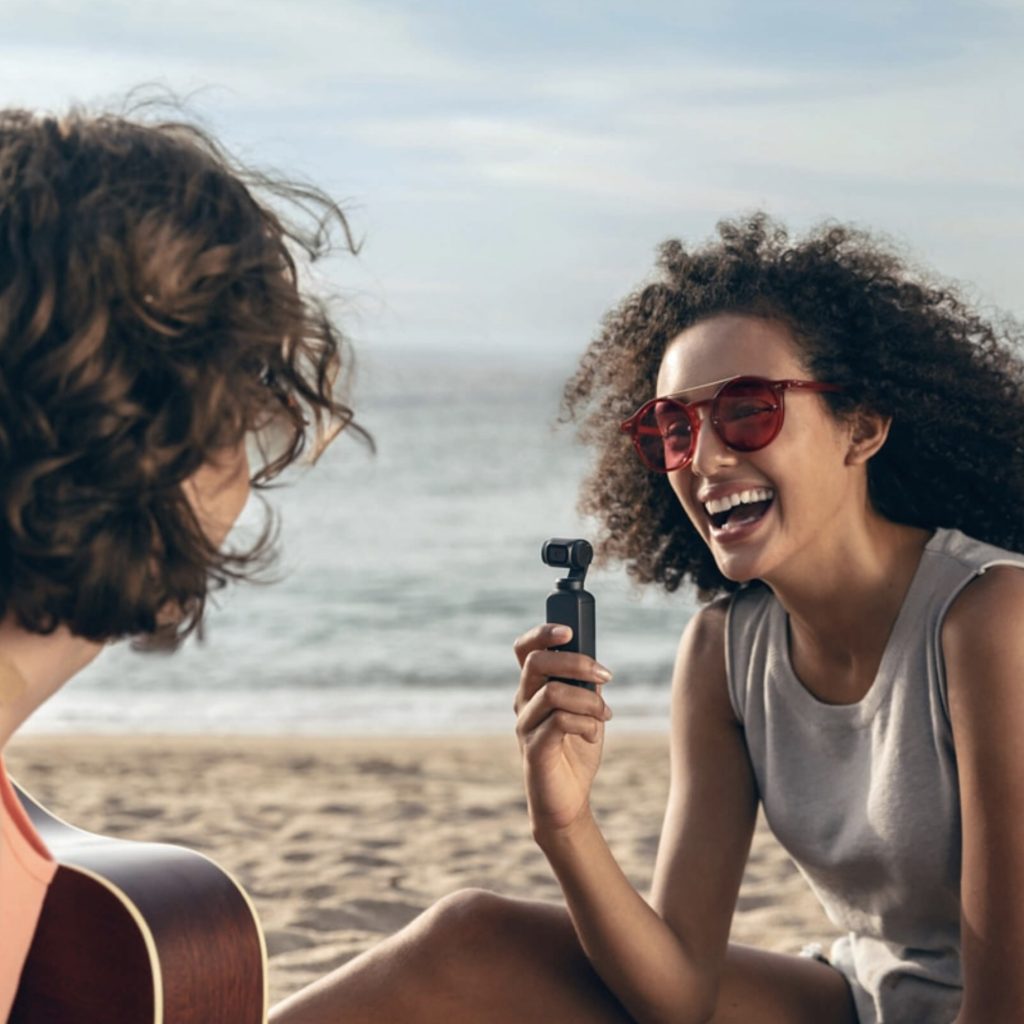 FIMI Palm: the best-selling Xiaomi alternative
FIMI is part of the Xiaomi group, and as we mentioned before in our Analysis of FIMI drones and stabilizers, it is a good alternative to DJI brand. Among its products, we find a stabilizer camera called Fimi Palm with excellent features.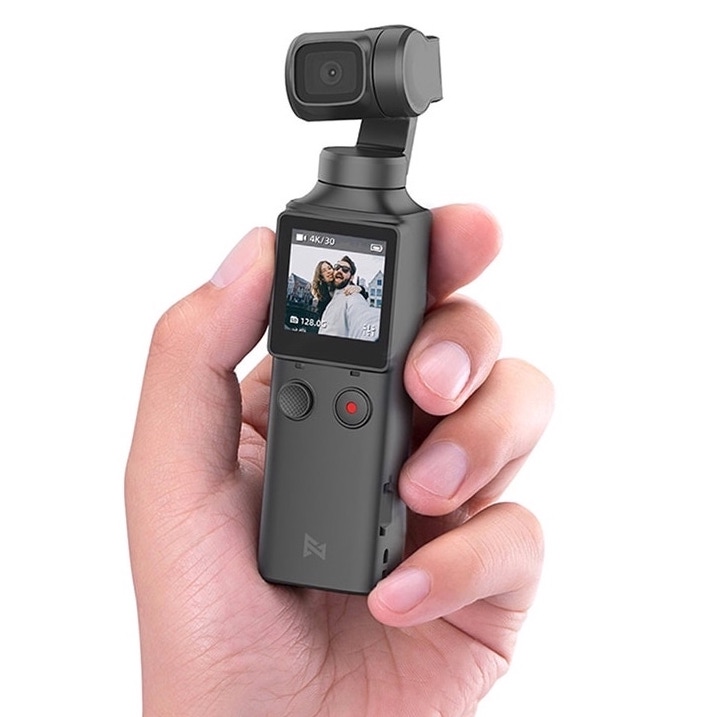 This is a great alternative to the DJI Osmo, it even beats the previous one in some features. It also has a 3-axis mechanical stabilizer, and its dimensions are similar: 127 x 31 x 23 mm and a weight of 120 gr. Its large 1000 mAh battery gives it a range of up to 240 minutes. Its touch screen is larger, with 1.3 inches.
It has a very similar design, although unlike the DJI, it does not have a universal port, but multiple outputs on the main body: USB type C port, and 3.5mm jack for an external microphone. It also includes two control buttons, one works as a joystick and the other as a trigger.
The advantage of this camera is that it has a 128º wide-angle lens, which allows you to record a wider field. This 1 / 2.3 ″ CMOS sensor can record videos at a maximum resolution of 4K / 30fps at 100 Mbps and take images with a resolution of 12 Megapixels.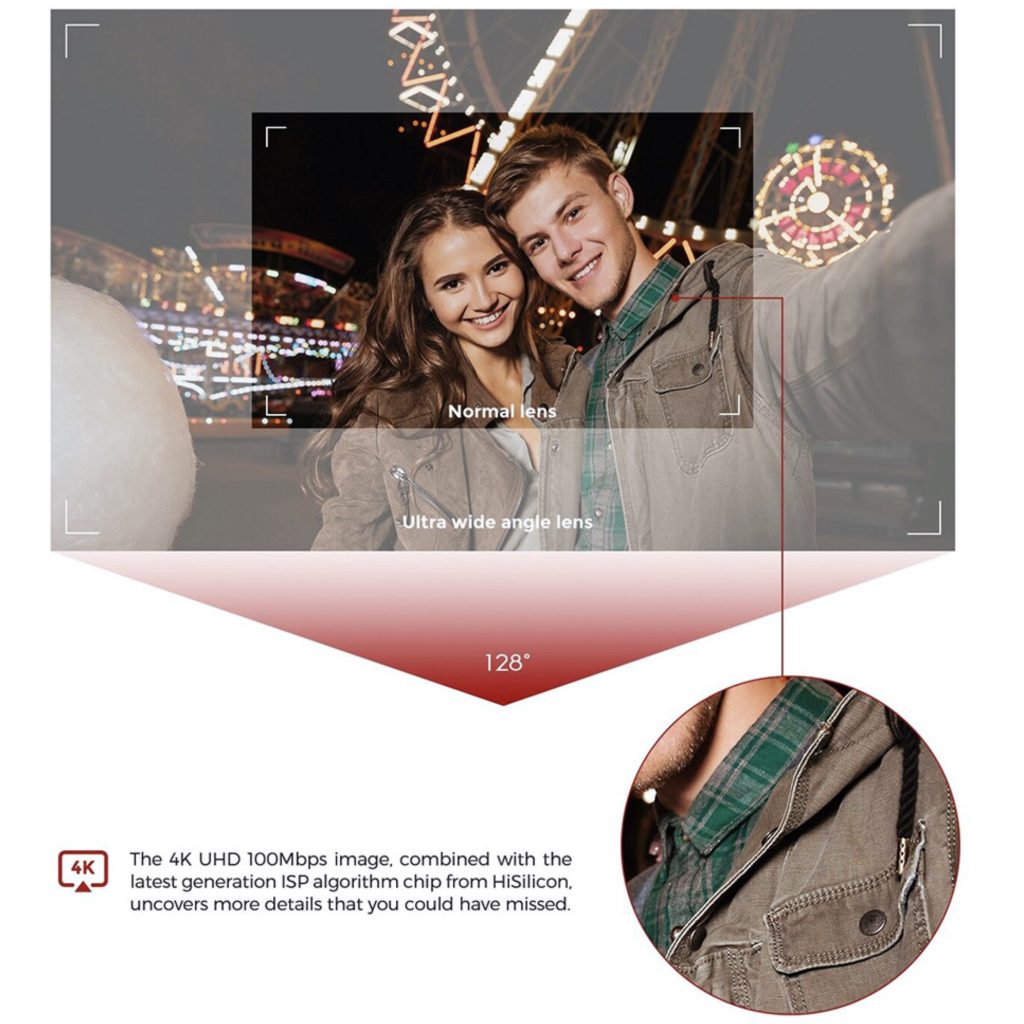 Another advantage is its WiFi and Bluetooth module, so we can connect the camera with our phone easily, which is ideal to remotely control the image and download the material without connecting cables. We can use several recording modes: image tracking with facial recognition, timelapse, super HDR mode, long exposure, night mode, slow motion, panoramic photo…
In short, it is a very interesting camera: it has better autonomy, a wide-angle camera, and a WiFi connection. Being from Xiaomi, is always one more reason to trust this choice. Also, as you can see in this link, it is cheaper than the DJI.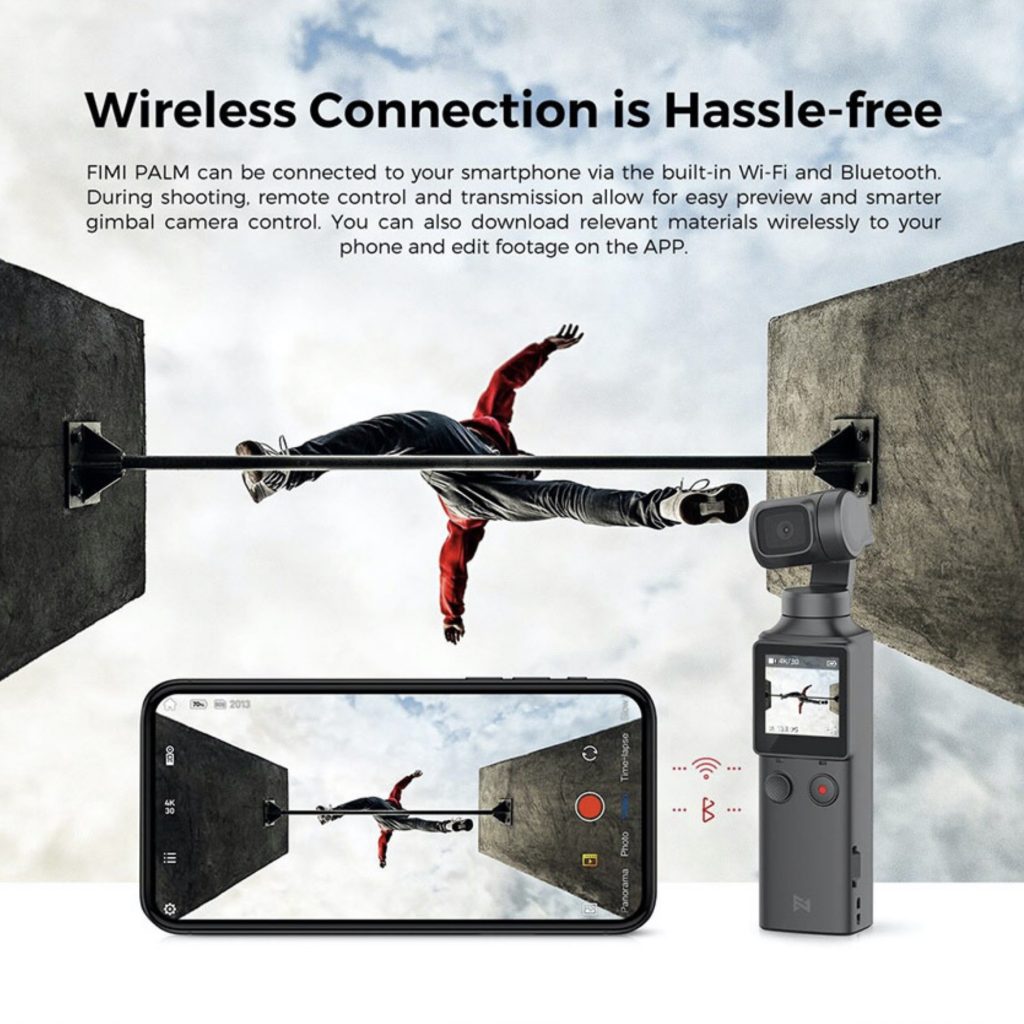 Feiyu Pocket: the best alternative to the Osmo Pocket
Feiyu has launched one of the best alternatives to the DJI Osmo, especially if we take into account the recording quality of its Feiyu Pocket model, which reaches a resolution of 4k / 60fps at 120 Mbps.
Its size is very compact, with dimensions of 124 x 50 x 30 mm and a weight of 115 gr. Its touch screen is the largest so far, with 1.3 inches. You can control and configure it easily, also through its mobile application since it has a Bluetooth and WiFi connection.
It is equipped with a Sony sensor with a dimension of 1 / 2.5 ″ CMOS. It is a wide-angle with 120º and has an anti-distortion system. You can record with a resolution of up to 4k / 60fps with a rate of 120 Mbps. The quality when taking photos is reduced to 8.5 megapixels. However, the images have less noise.
Its stabilization system is based on a hybrid 6-axis system that combines a 3-axis mechanical gimbal and a 3-axis electronic anti-vibration system. With a small anti-twist motor, it achieves the best image stabilization we've seen so far.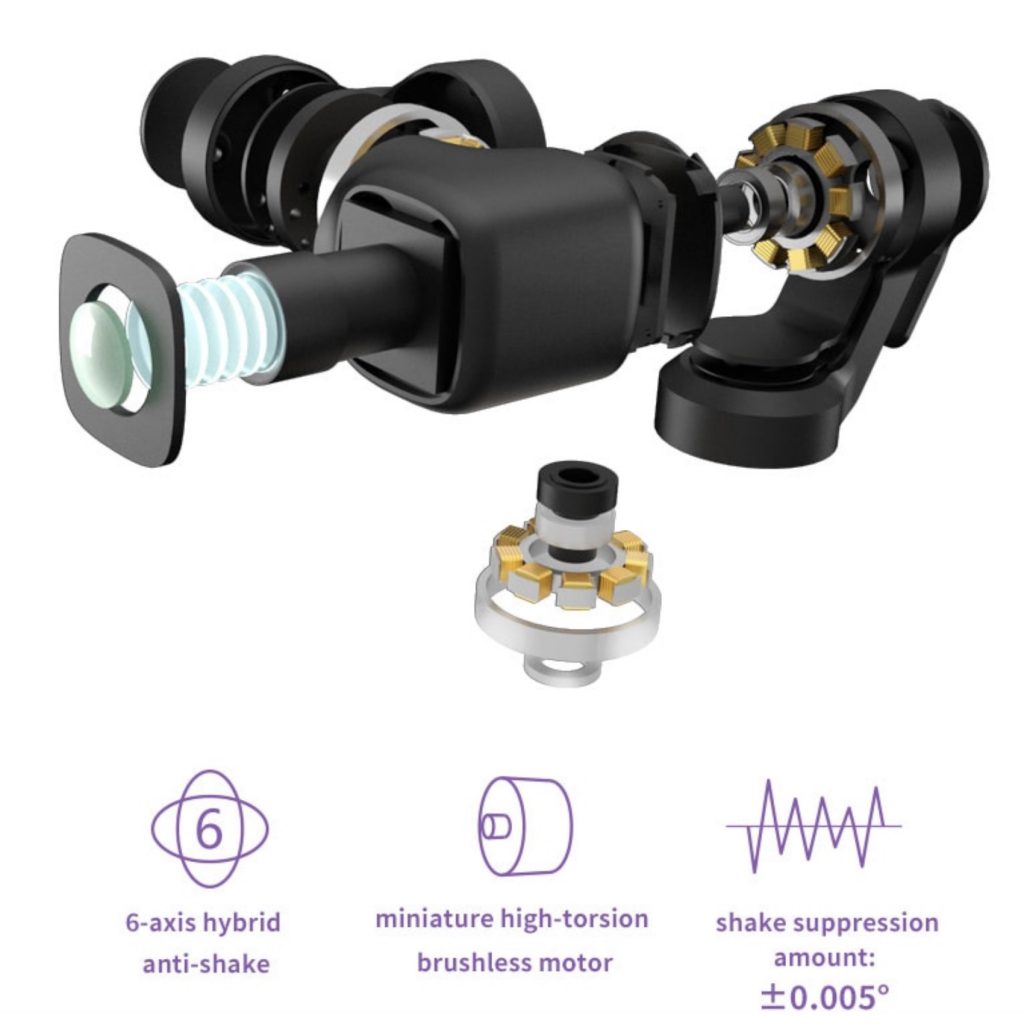 It also has the largest battery that we have seen in a camera of this style so far. Reaching an autonomy of up to 270 minutes, it can also record connected to an external source, so you do not stop recording at any time.
We can develop our imagination thanks to its multiple recording modes. The most interesting, as in other cameras, is its intelligent tracking function or taking time-lapse, 8x slow-motion videos, taking panoramic photos, etc.
If you are considering buying it, you will be happy to know that it is cheaper than DJI, especially if you buy it through AliExpress. You can find it in several stores from this link.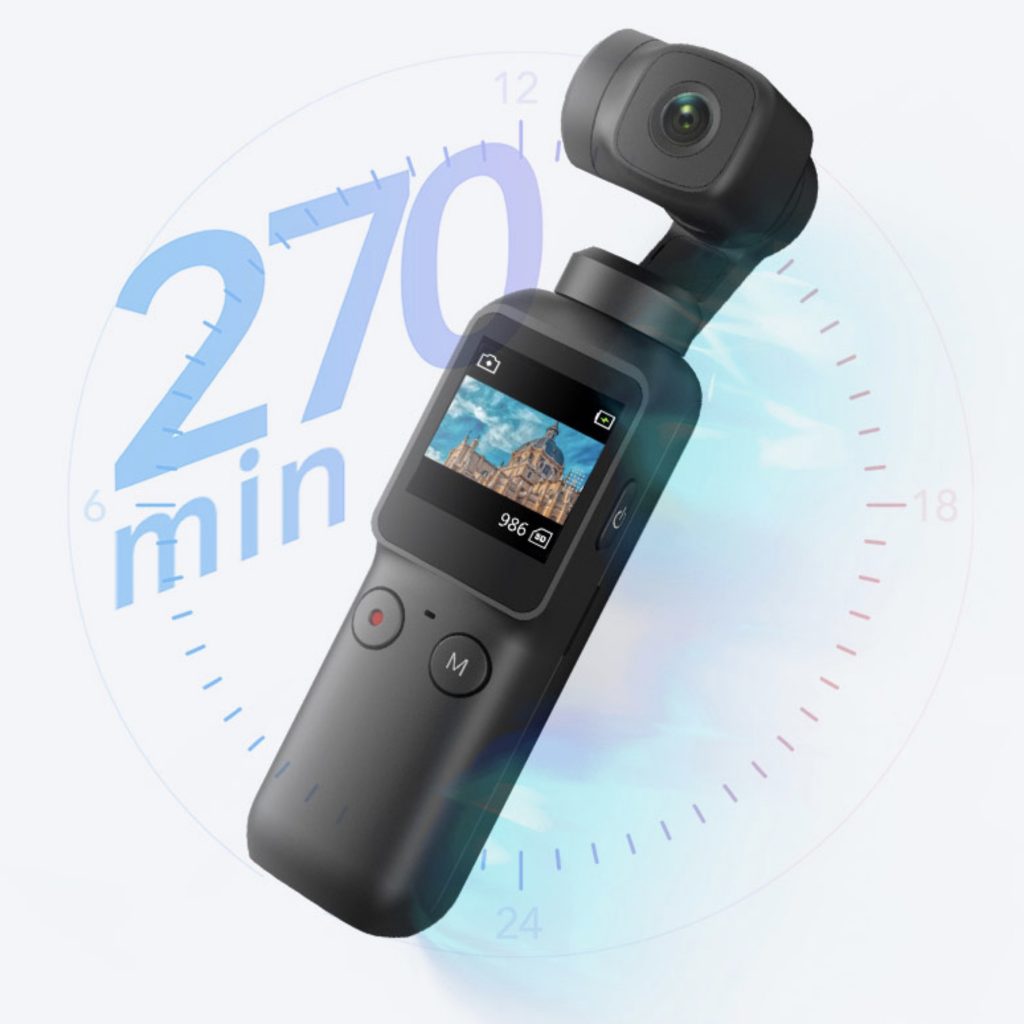 Vmate Snoppa: a camera with a professional stabilizer
This camera has become popular through a famous crowdfunding platform and is already on sale on AliExpress. The Vmate Snoppa is a 3-axis mechanical stabilizer camera with an interesting feature: its lens rotates up to 90 degrees to switch between landscape (horizontal) and portrait (vertical) modes easily.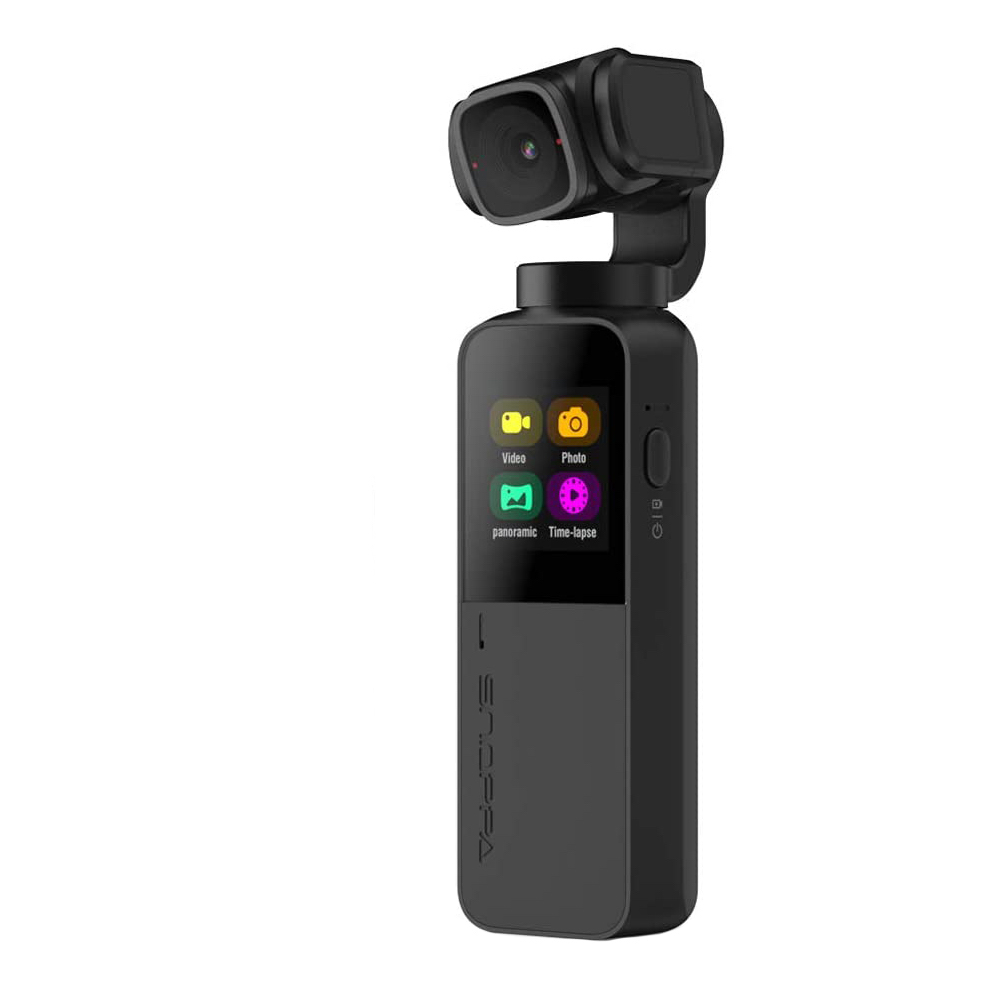 The dimensions of this camera follow the line of those that we have already seen so far: 122 x 37 x 32 mm, with a weight of 118 gr. Its large capacity battery, with 1,700 mAh, provides an autonomy of 160 minutes. Its 1.22-inch LED touchscreen has a high resolution and can be seen even in bright environments thanks to its 850 nit brightness.
Its main body has few buttons or inputs: a capture/power one on the side, a TF card slot, and a USB 3.1 port at the base. It also has a built-in Bluetooth module and WiFi connection to remotely control or connect headphones or wireless microphones.
As for its hardware, it has a Cortex-A53 processor and a 1 / 2.3 ″ CMOS image sensor. Its lens has an aperture of 81º and can record videos with a quality of up to 4K / 60fps at 100 Mbps or up to 1080/240 fps and photographs in a resolution of 12 megapixels.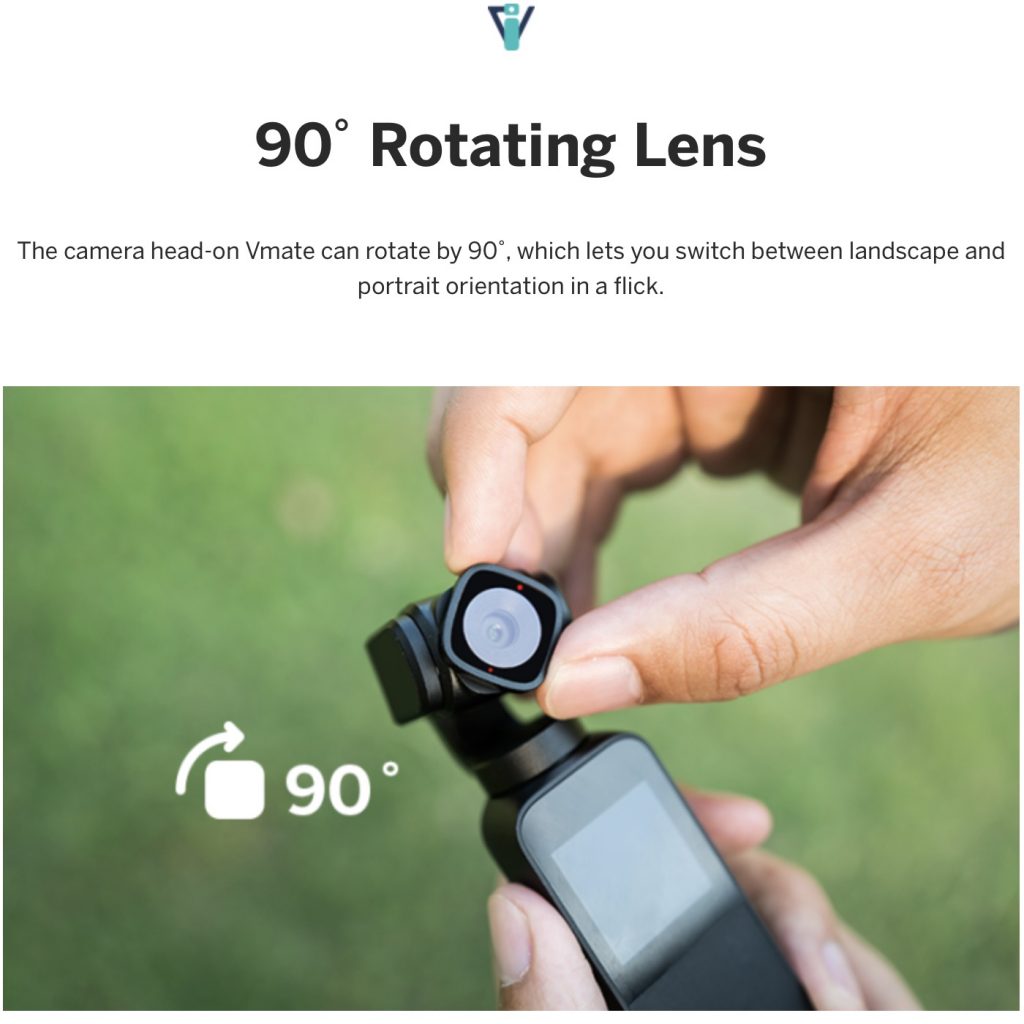 One of the biggest advantages of this camera is the sound quality that we can achieve without adding external microphones. It has an integrated double microphone which allows us to reduce noise or create a stereo sound. Its mobile application allows you to choose between them.
Through the application, we can configure various modes of recording and shooting of images: intelligent tracking, panoramic image, slow-motion, FPV, long exposure for night images… The only problem is its price, although it is cheaper than the DJI, it is still quite high as you can see here.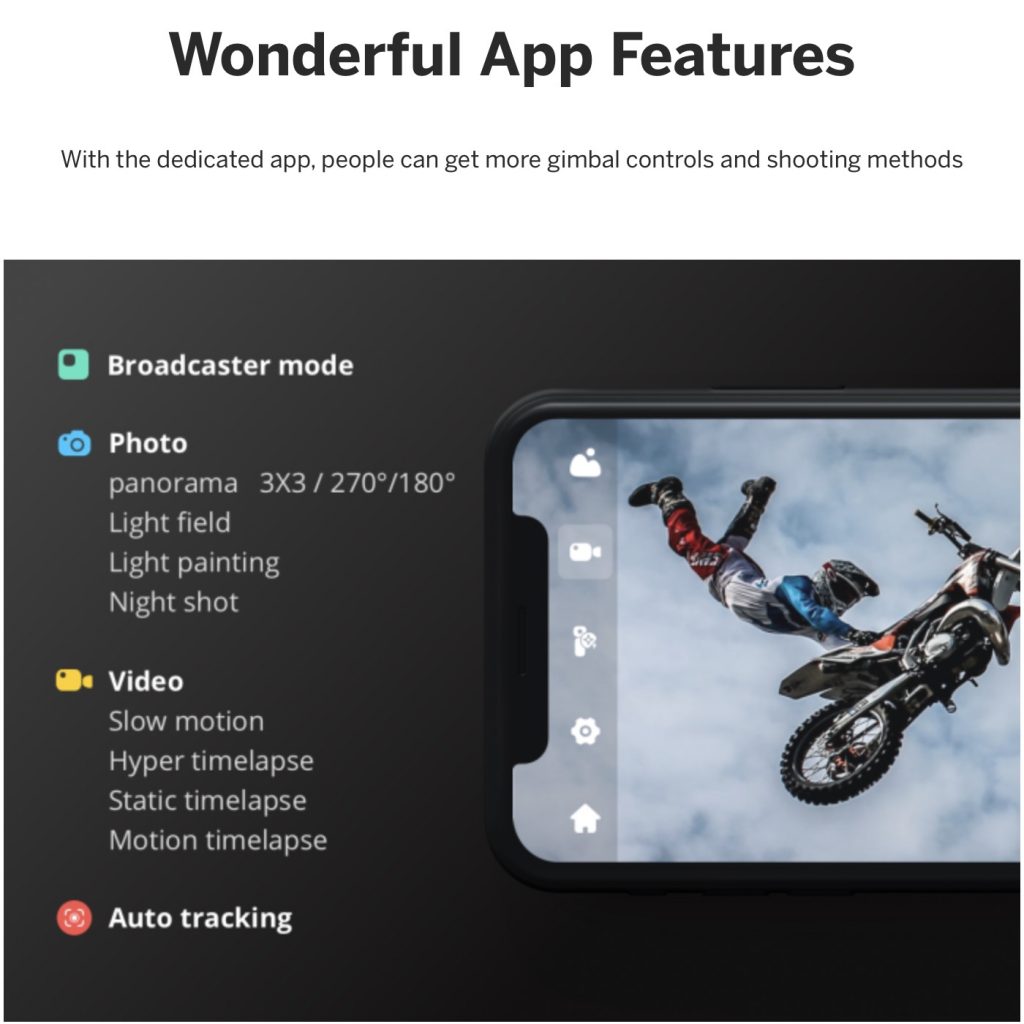 Conclusion: Which is the best AliExpress pocket stabilizer camera?
As you can see, all the pocket cameras with a stabilizer that we have presented have a high quality. But perhaps you are still not sure about which one is better, since they are quite similar. Without a doubt, the DJI brand is the one that transmits the most confidence to us as it is known internationally, and its universal port offers multiple options.
If you want a cheaper alternative, the Fimi Palm has the best price, although its 4k recording at 30fps may be a reason not to choose it. At a price between the Fimi and the Dji, we find the Vmate and the Feiyu. Both are very good options, although the Feiyu Pocket camera is better known and has more accessories.
If you want more advice on how to buy on this famous website, in our blog in addition to analyzing the best products and the latest news, we also have a section with tutorials where we explain tips and tricks to buy safely.
What do you think about these DJI Osmo Pocket style stabilizer pocket cameras? We would love to hear your opinion, do not hesitate and leave your comment below.