Recently we received a curious request from a reader on how to find teddy bear products in AliExpress, and we like to help our readers so we've been researching and found a bunch of teddy bear jewelry and accessories that would fit right into the Tous catalogue (you can see a sample here).
Finding Tous inspired jewelry in AliExpress couldn't be easier
Finding Tous inspired jewelry and accessories in AliExpress is very easy. To find them all you have to do is look for this. The link sends you to a filtered search, you could try on your own, but AliExpress can be tricky for a newcomer and nobody ever complained about less work.
How do I find the best jewelry, rings, earrings or bracelet sellers?
By clicking on the previous link, you are going to find thousands of results, but (especially if you are new to AliExpress) keep in mind that this website it's any ordinary online store. In fact they don't have their own stock, it's a platform for Chinese sellers to sell their products. Think of it as a professional version of eBay (no individual sellers).
Nevertheless, eBay is a good example to keep in mind because it works similarly: you always need to check the seller's reputation before purchasing a product. If you aren't quite clear on how reputation works on the website, take a look at our article on how to identify a good seller in AliExpress. This being said, don't ever rely on the general ratings, look at the specific rating for the product you are interested in as well.
Focus especially on the feedback given by other customers for the specific product you want to buy. The more reviews there are, the more the feedback is trustworthy and you can look forward to having a good shopping experience.
That is why we always recommend you click "sales" to filter result by sales as well as ratings: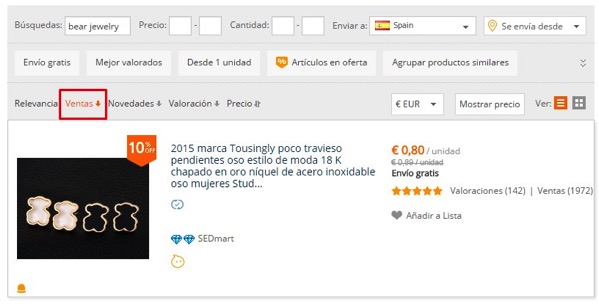 After doing this, take a look at the ratings given to the specific product you are interested in. Keep in mind that stars are a simplified version of rating. To see the exact percentage click on the product details. Here is an example to help you visualize what you are looking for: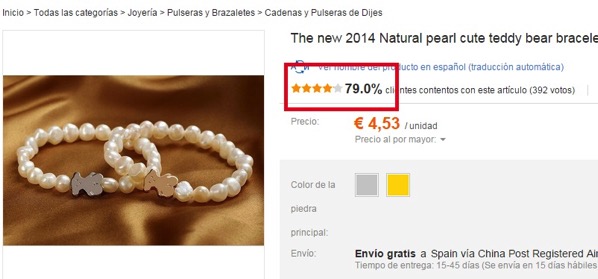 As you can see, in this example, only 79% of the customers are happy with their purchase. All things considered, this is not a very good percentage. There are two possible reasons for this: the products takes to long to arrive; or quite simply, the quality isn't good enough. To get a better idea of what exactly isn't working, just click on the starts to access the review section. This will allow you to see what previous customers had to say about the product and you might even see some pictures of the real product they received.
People all over the world shop in AliExpress, so don't forget to see what people from other countries have to say as well.
Teddybear handbags (Tous style) in AliExpress
Unlike the jewelry, Tous style handbags can be very hard to find in AliExpress. To look for them, follow the same process we always use. Start by going to this version of AliExpress and typing the key words we mentioned before + "bag" or "women bag" or "shoulder bag": "bear women bag", etc…
Just take a look through the results and see if you can spot any originals.
Want to know more?
Is there something we didn't cover, another questions still bugging you… leave us a comment! We'll be happy to help.