Wireless headphones have gained a lot of prominence since Apple decided to launch their new "Airpods", along with which they eliminated the jack connector of their new devices, betting on a wireless world. But wireless headphones have been on the market for some time now, and although they don't cost the 179 euros that Airpods do, they aren't cheap either.
Today in the blog we are going to show you alternatives to the famous Apple Airpods that we have found in AliExpress, which besides offering very good sound quality, are much cheaper. We've already talked to you in the previous blog about wireless alternatives, such as bluetooth headset headphones that we can also find in AliExpress, but today we are going to focus on these futuristic concept headsets that camouflage in our ears, allowing us to listen to music without any cables.
Buying wireless headphones like Airpods in AliExpress
AliExpress offers a wide variety of high quality headphones and sound equipment at a great price. And of course, we've also found a wide variety of Airpod-like headphones. Still, it's a pretty new product so there are fewer models than other products. We're going to show you the best-selling, top-quality models with good ratings from other buyers.
i7S Tws
These headphones are the closest thing to the Apple AirPods you'll find on AliExpress. Note that this copy (not replica) is very comfortable and fits the ear perfectly.  As for the battery, the i7S Tws have an autonomy of about 3 hours, one hour less than the original AirPods, this being said, but it's to be expected given that these Chinese alternative is worth 17 times less.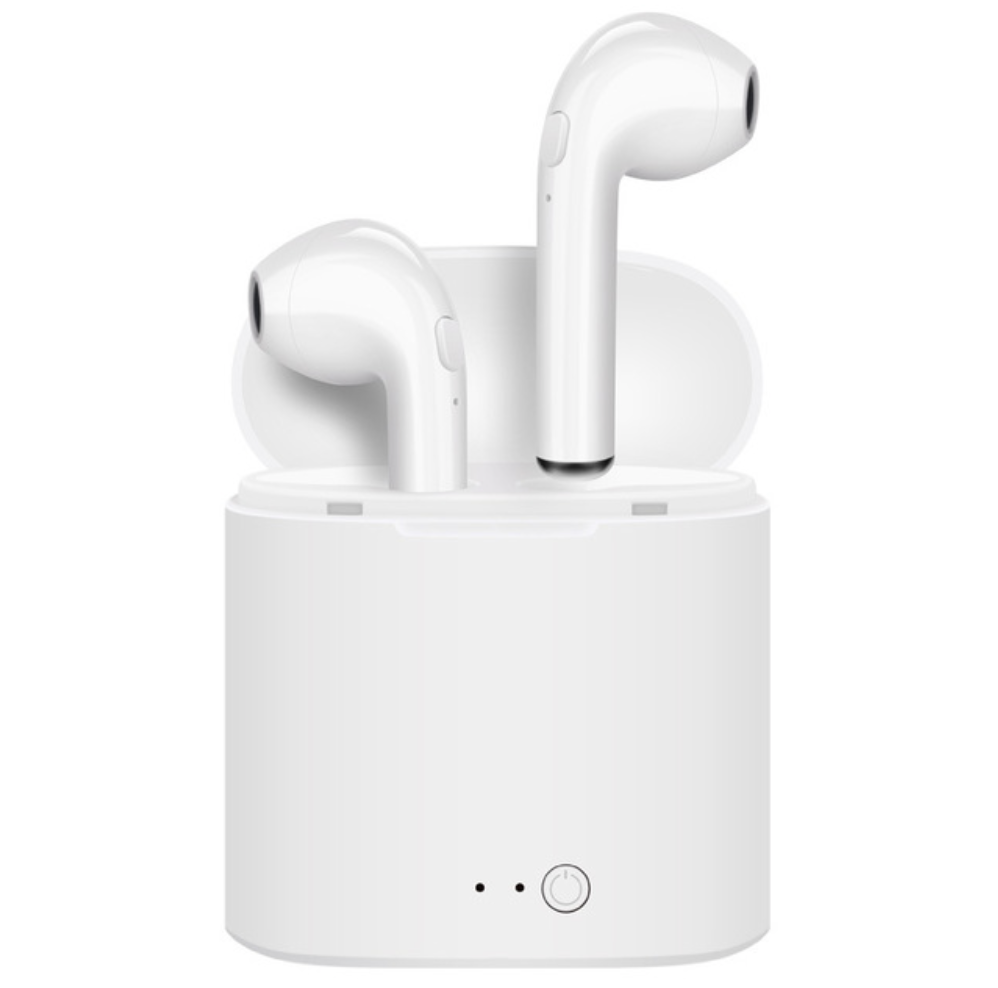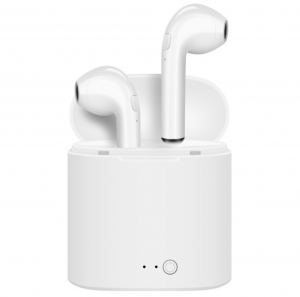 They also come with a built-in microphone so you can make and receive calls, and you can buy the charging box as well. You will be able to connect them to your mobile (iOS or Android), computer and even to your television if it has bluetooth. In terms of transmission distance, the box says 12 meters, but it's more like 10 meters.
We can assure that the value for money is excellent and consumer reviews support this fully. If you are looking for Chinese AirPods at an unbeatable price, the i7S Tws are a very good choice.
Syllable D900
These headphones are one of the best sellers in their category on AliExpress. They have an autonomy of 120 minutes and are charged by the box itself, which works as a charger and allows you to get up to 6 full loads without having to plug them into the power, so you can charge them anywhere just by having the box at hand.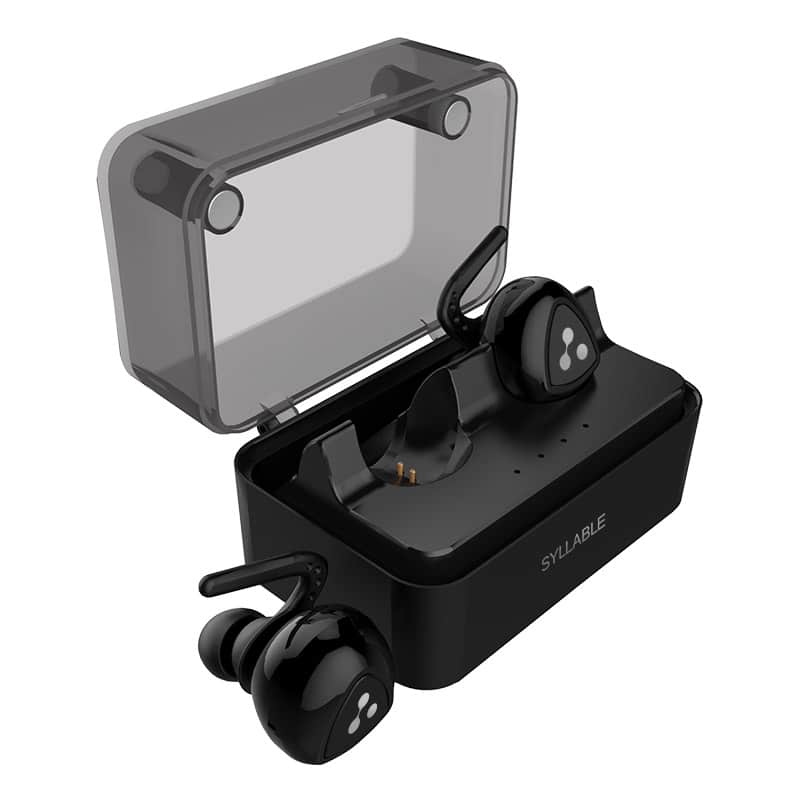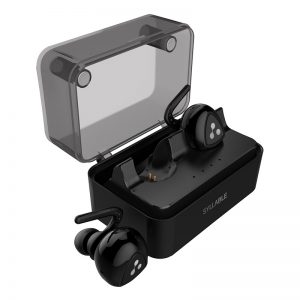 The left earphone is the main one and can be used alone, but when we use the right one they synchronize automatically when we turn it on. They incorporate a microphone so you can use them as a handsfree set and answer calls.
As for connectivity, they work with bluetooth 4.1, promising better signal and connectivity, in addition to low power consumption. Its ergonomic design fits the ear better and weighs only 5 grams.
Syllable D900s
The previous brand also makes this second model, the D900S, with which the Syllable brand fell into the ranks of the most professional headphones in this category due to their magnificent features. These EarPods have a better autonomy that reaches up to 4 hours, up to 90 hours in stand-by, and its box allows up to 6 full loads without cables. Its degree of water resistance is IPX4, so you can exercise with them without worrying because it resists sweat and splashes. In addition, like the previous model, they also incorporate a microphone to answer calls.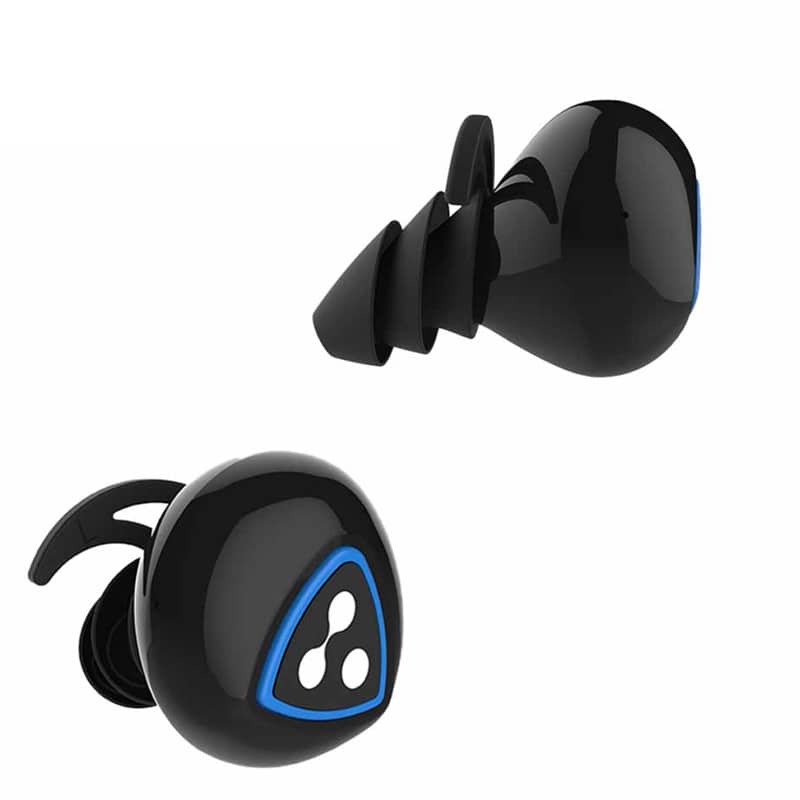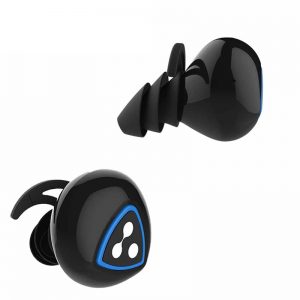 It has bluetooth 4.0 connectivity so it promises connectivity with up to 99% of devices, and thanks to its integrated chip allows better sound and intelligent noise reduction, blocking external sound. In addition, it is compatible with the aptX codec, which offers a quality similar to that of the Audio CD, offering even better sound quality. It also supports ACRCP, A2DP, HSP and HFP protocols.
They cover a frequency range from 20 Hz to 20 KHz, i.e. they cover the entire range audible to the average human, and therefore have a good ability to emit bass and treble. Finally, its negative point would be the weight, 8 grams compared to the previous model that only weighs 5, but which is justified by its greater autonomy and integrated chip.
QCY Q29
The QCY brand, dedicated to headphones and available on AliExpress, is becoming increasingly popular. And they also have their own version of wireless headphones. The QCY Q29 model, is actually two QCY Q26 headphones that, using a transmittance chip and TWS technology (True Wireless Stereo), connect the main unit to the secondary one and create a complete stereo system that offers high quality sound. Still, the headphones can be used separately. Using only one headset is more practical when it comes to driving and working, and you can use them as a handsfree set thanks to the built-in microphone.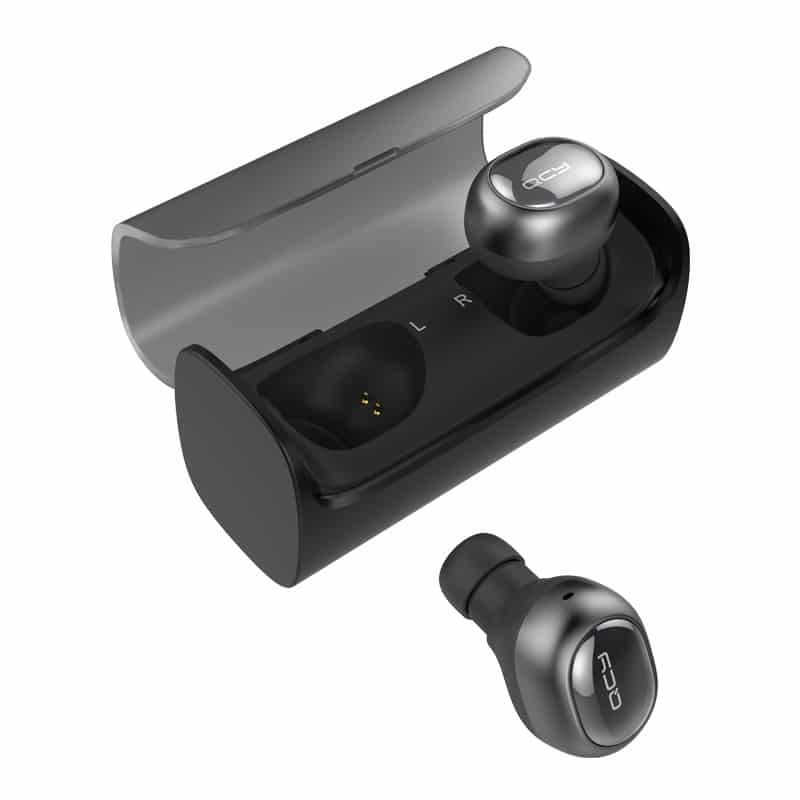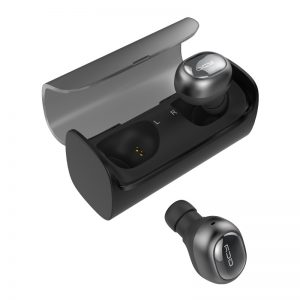 In terms of features, the Q29 has a weight of 5.3 grams per headset and comes in a handy box that allows up to 4 full loads without cables. Its DSP technology offers high quality call sound. They work in a frequency range of 20 HZ to 20 KHZ and have a high sensitivity of 96 dBa. Their autonomy is up to 2 hours listening to music and 30 hours on stand-by. In terms of connectivity, they work with Bluetooth 4.1, and support HFP, HSP, A2DP and AVRCP protocols.
Overall, the Q29 are a good alternative to low priced Airpods, are great quality and is a brand with very good ratings (you can see in the comments of other buyers who have already received the product) so we will be making a completely safe purchase.
Ttlife X1T
These headphones do not have a charging box, which may be inconvenient for some, but in return they have a much lower price. They have some very good features: noise cancellation, bluetooth 4.2, can be used separately, have a range up to 10 meters, integrated microphone … In addition, something very important, they have an autonomy of up to 4 hours if used together and up to 6 if used separately, and can work up to 120 hours on stand-by.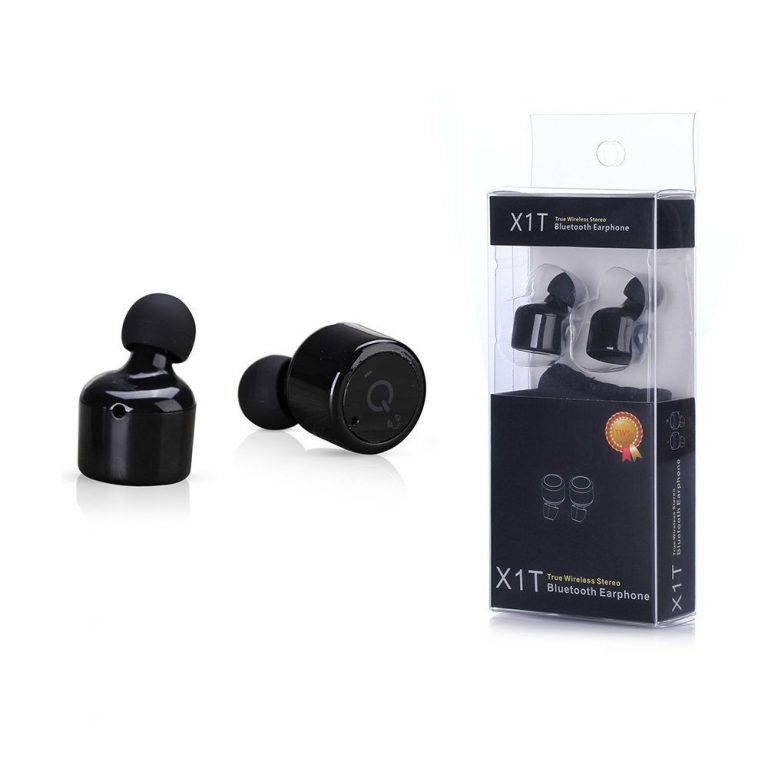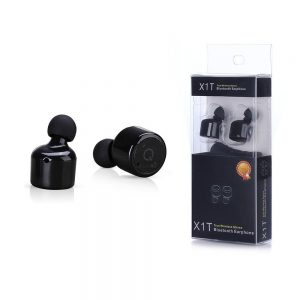 They have a high sensitivity, 110 dB and a frequency response with a range from 20 Hz to 20 KHz, as well as an impedance of 32 Omhs. In short, they have very good qualities, and buyers who have already bought the product agree that it has good sound quality, as well as being very cheap.
Mykung fu i7
Other headphones to consider are the mykung fu i7. They have very good features: autonomy up to 2 hours, electronic noise reduction, Bluetooth 4.1 and they support the aptX protocol, which guarantees excellent sound. They also support the protocols HFP, HSP, AVRCP, are very light, only 4.5 grams each earphone, and incorporate microphone. Finally, they come with a practical 2000 mAh charging box, which allows up to 10 full loads for the headphones with no need for power… With such a capacity, this charging box can also be used as a power bank to charge our mobile in case of emergency.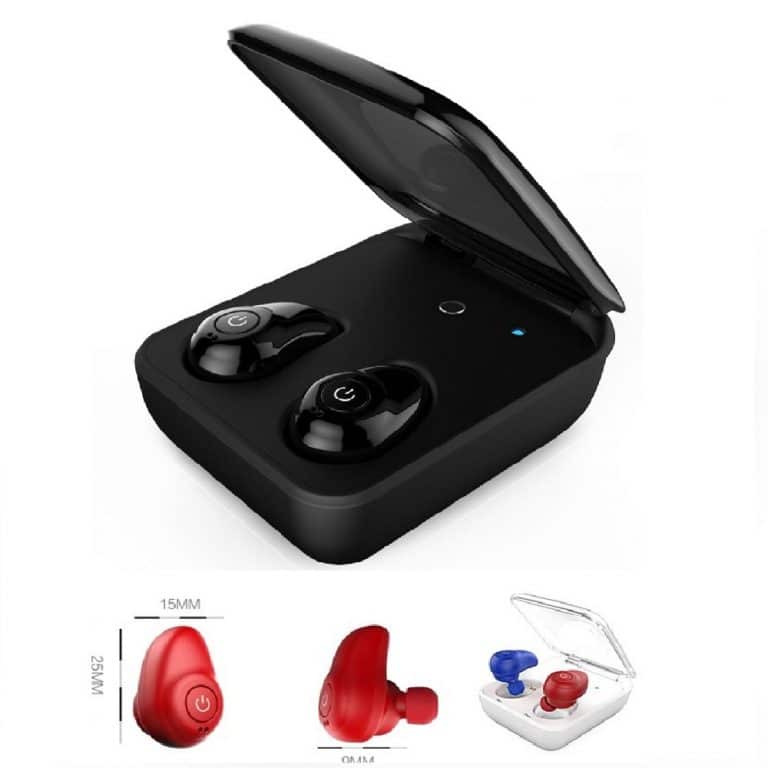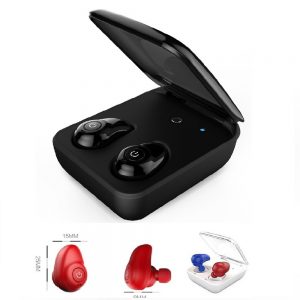 Dacom 7S X1
If you're looking for headphones that are as aesthetically similar to Apple Airpods, the Dacom 7S X1 are the ones that looks most like them. Although there are obviously a lot of functions that are present in Apple's but not in these, their specifications do not detract from them at all: bluetooth 4.2, range of up to 20 meters, a charger box almost identical to Apple's, ergonomic finish and quality. It has an autonomy of up to 4 hours in use thanks to its 65 mAh battery.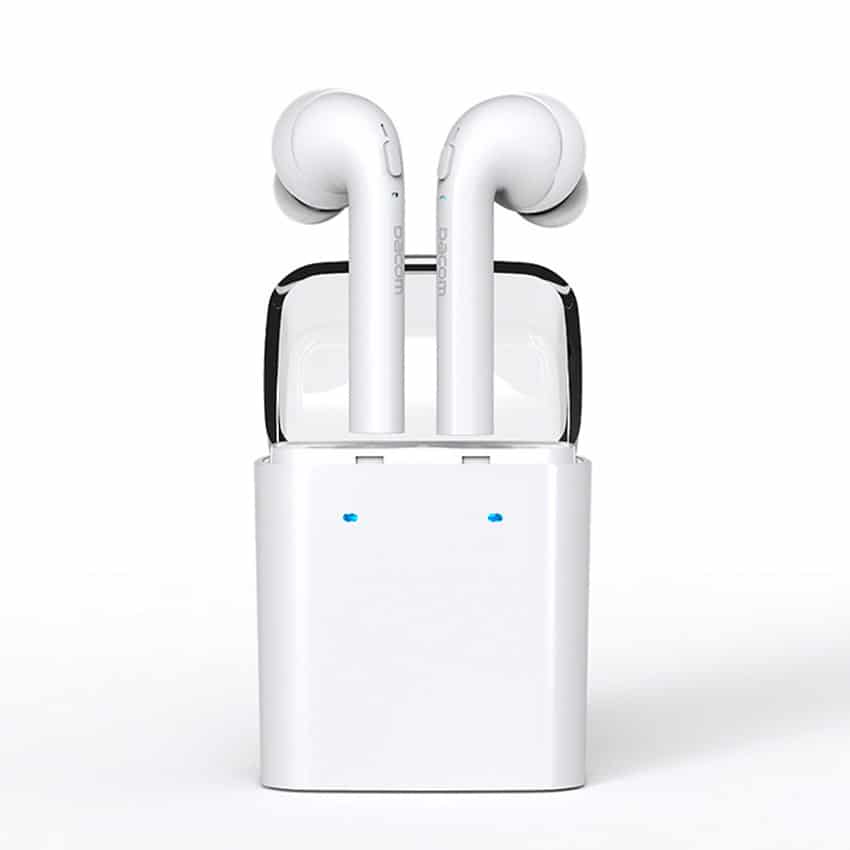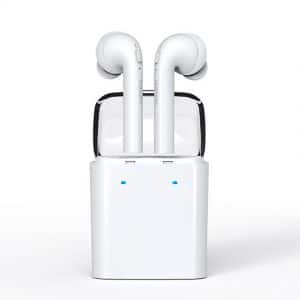 It includes the CSR 63120 chipset and TWS technology that offers high quality stereo sound both on calls and listening to music. It also offers external noise reduction through the sixth generation CVC system, which makes the sound clear, crisp and pure.
The headphones not only look like Airpods, they offer great performance and a high quality finish.
Q800 Headphones
These headphones combine a low price without giving up the charging box, so they are a good option if we do not want to spend so much money but we like the idea of being able to charge them easily by just placing them in the box, although in this case the box has to be plugged in to be able to charge them.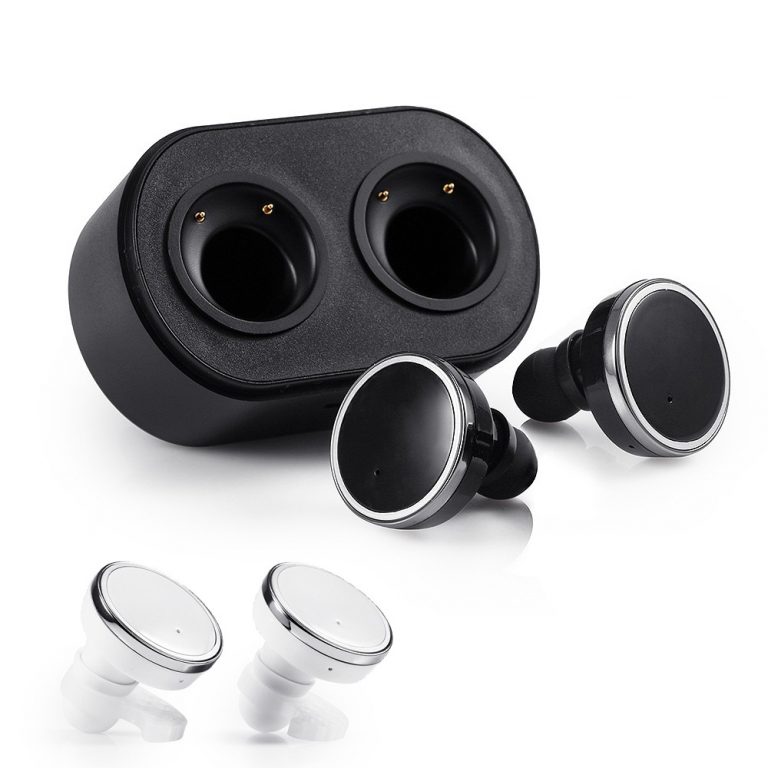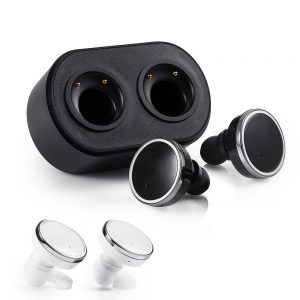 Its features are more or less those that we have been seeing in other devices: bluetooth 4.1, frequency range from 2 Hz to 20 KHz, A2DP/AVRCP/HSP/HFP bluetooth profiles, about 2 hours of autonomy, integrated microphone, they can be used separately … In short, a headset with a decent enough sound that perfectly fulfills its mission.
Yuer T6 TWS
This model, like the Ttlife x1t, sacrifices the cargo box in exchange for a lower price, although in this case its features are not as good as in other models. It weighs 6 grams, has Bluetooth 4.1, a 40 mAh battery that has an autonomy of up to 2 hours listening to music and 180 hours on stand-by, impedance of 32 ohms …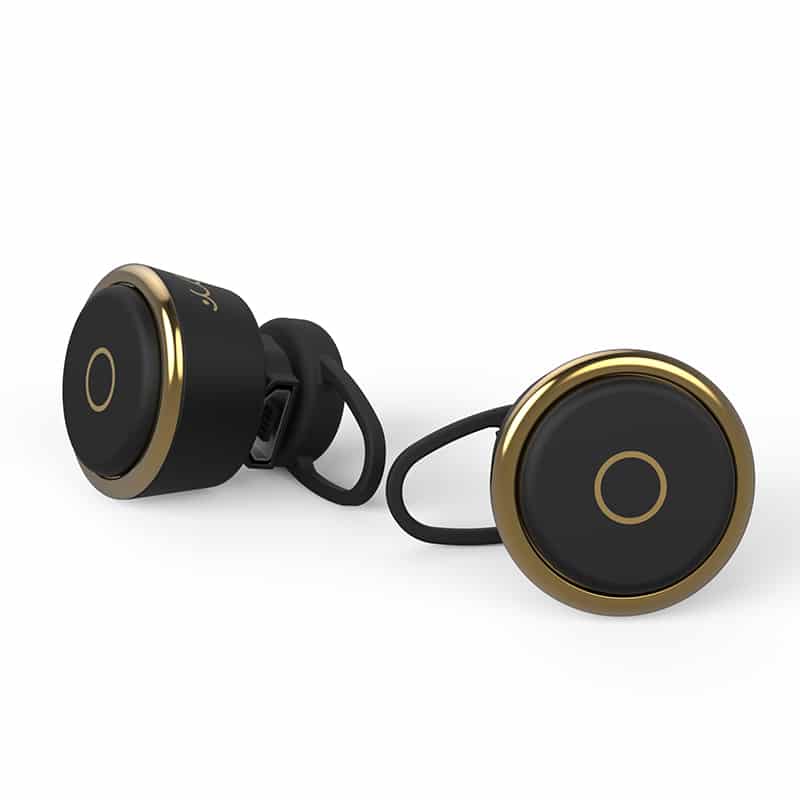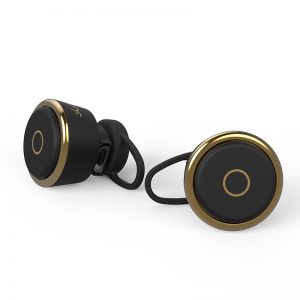 The strongest point is that they promise a transmission distance of up to 20 meters. In short, these headphones have good value for money, are perfect for anyone who is not too picky when it comes to listening to music, and does not want to spend so much money.
S530 earphones, the cheapest ones
We have left the cheapest, but not the worst, Airpod headphones for last. In fact, the s530 headphones are the best-selling out all the ones we showed you before and therefore have the most real ratings from other buyers, so it's easy to get an idea of their positive and negative aspects.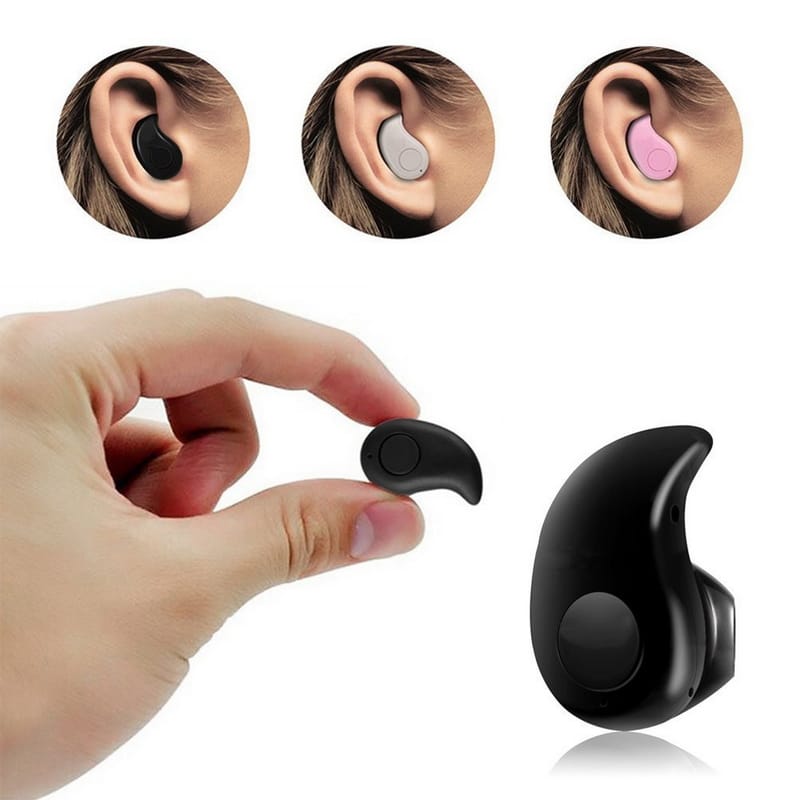 To begin, we will tell you the positive ones: they have a high sensitivity, much higher than other models, of 123 dB, and also a high response frequency, from 8 Hz to 25 KHz, they incorporate a microphone and promise an autonomy of up to 3 hours thanks to their 50 mAh battery, although many users comment that their autonomy is lower. Its negative points are the weight, 8 grams, the absence of noise cancellation or other technologies making the quality of human voice bad and many users also say they are not ergonomic.
Tips before shopping in AliExpress
Remember that AliExpress is an online sales platform where thousands of sellers offer their products. That's why we always recommend that you take a look at the seller's score and other buyers' comments before buying. If you don't have a lot of experience buying from AliExpress yet, we recommend you stop by our how to section, where you can find very interesting articles that will help you shop more safely on AliExpress.
Which of these models is your favorite? We would love to hear your experiences or opinions, you can do so by leaving us a comment below.