Until now, headphones were the best way to listen to music with great quality and without disturbing those around you. They have a surround sound and the over-ears are the ones that better contain noise. But new neck speakers are a very interesting novelty due to their surround sound quality, and one of the best options is already on sale on AliExpress.
These are speakers that are placed directly on your neck. What is the use that we can give these speakers? It is clear that it isn't a good idea to wear them in the office, in the gym, or while walking around the city, since it is definitely a speaker around your neck.
Neck Speakers: a good alternative to ASMR headphones on AliExpress
But when we are at home, usually we want to listen to music in a relaxed way and without losing connection with our environment. This is where neck speakers become a great option. Especially for lovers of ASMR audios, those relaxing videos that allow us to easily disconnect.
To fully enjoy the sensations that ASMR produces, it is recommended to use headphones to capture all the sounds and enjoy them but, precisely, headphones can be uncomfortable. Can you imagine enjoying your favorite ASMR videos without having to worry about headphones?
Quality neck speakers allow you to enjoy amazing surround sound and are very comfortable. There are two high-quality models on the market: the Bose Soundwear and the JBL Soundgear. We are going to talk about the latter below.
JBL Soundgear: Immersive binaural 3D sound
The famous brand JBL, renowned for its sound quality, have high-quality wireless neck speakers. They are called JBL SOUNDGEAR and they are a new way to experience sound like you have never done before. They are a mix of headphones and portable speakers and you can find them by clicking here.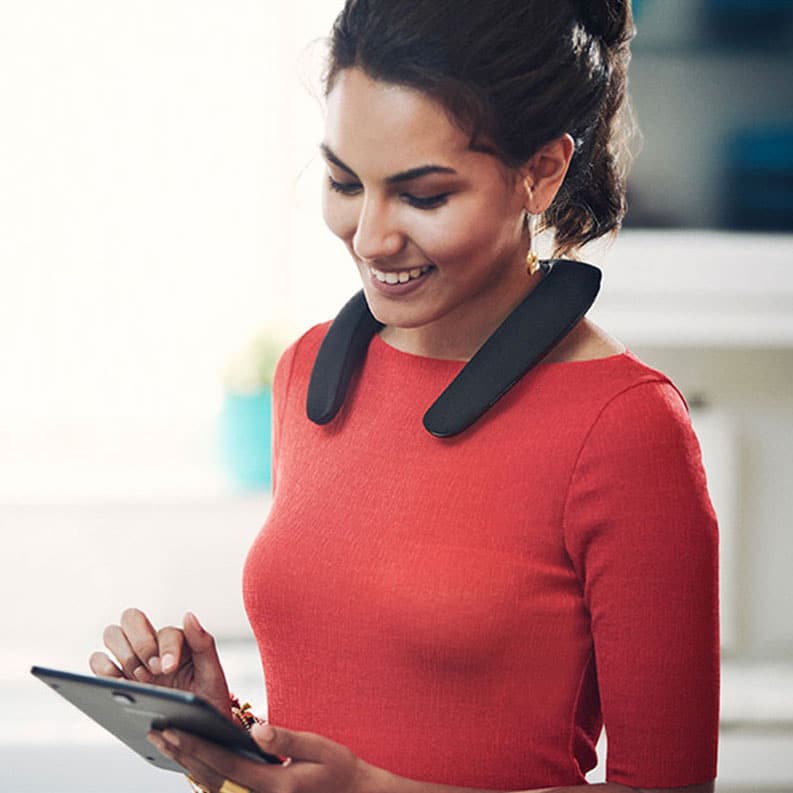 They place around your neck. Thanks to their low weight, at just 370 grams, it is easy to forget we are wearing them. Their two 3W speakers (with 6W in total) are oriented towards the ears, creating a quality 3D binaural sound. They are connected by an ergonomic structure with a smooth finish, with fabric on the upper part.
It has Quad drivers and bass amplifiers that create a surround sound zone around you without losing the perception of your surroundings. The sound quality of this neck speaker is impressive, and perhaps this is what attracts and surprises the most, because the sensation is like carrying a kind of surround sound bubble.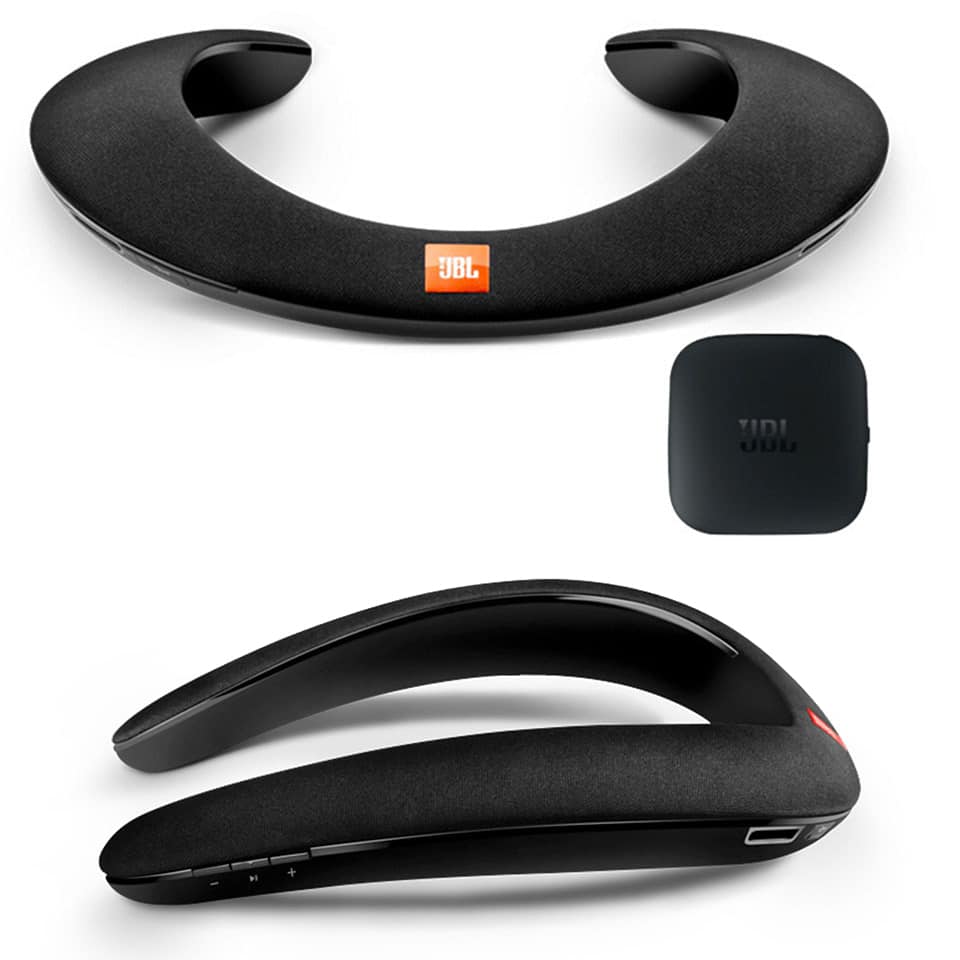 They also include a dual-microphone to use them as a hands-free in conferences, as they eliminate echo and noise. People who are around will not hear the details of the conversation, although when listening to music they will be able to distinguish the melody of the song
They allow you to switch seamlessly between different devices, so you can connect them with your tablet and then with your mobile phone to answer calls. Controls are included to manage music playback without taking out the phone. They charge in just 2 hours through their micro USB charging port, which gives them a range of up to 6 hours.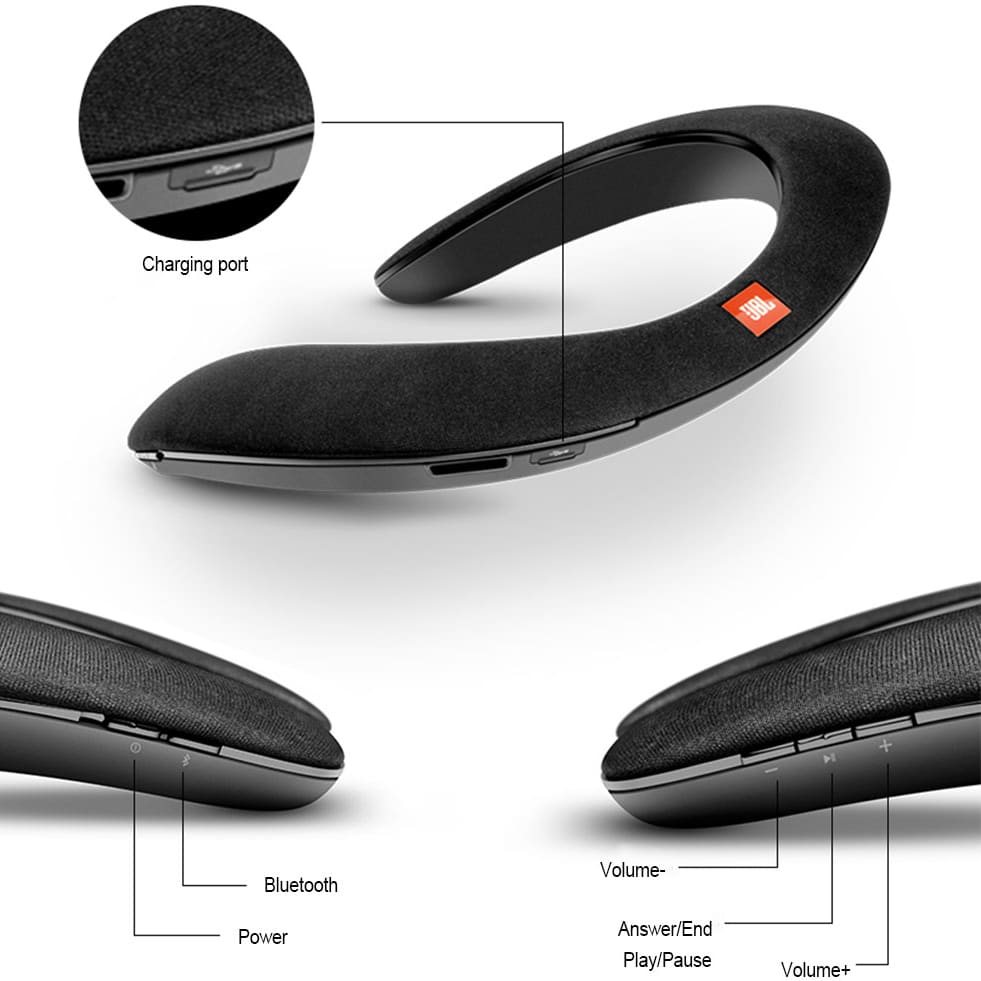 They connect wirelessly through their Bluetooth 4.0 connection, but they also have a BTA wireless audio transmitter that allows you to provide Bluetooth to all those devices that do not have it. This unit uses a low latency AptX codec and analog or digital signals can be connected.
How to find JBL Soundgear speakers at a lower price on AliExpress
The famous brand JBL is one of the bests when it comes to sound quality. Luckily, on AliExpress many stores sell their products, they even have an official store and other authorized sellers. To find the JBL Soundgear at the best price, we recommend you enter this link.
JBL Soundgear vs Bose Soundwear: which are the best?
Neck speakers are pretty peculiar and few brands are betting on them. Only professional brands such as JBL and Bose have opted for this type of speakers since both achieve surround sound due to their sound quality, something that other brands find difficult to achieve as they focus on a lower price range.
One of the advantages of Bose speakers is that they are more flexible than JBL. However, when it comes to sound quality and price, JBLs are better. They have a more enveloping and natural sound. The basses sound a bit better on Bose. However, JBLs are ideal for music, voice, acoustic…
Other lower-priced alternatives to JBLs on AliExpress
The famous online sales platform AliExpress is popular for bringing out cheaper alternatives, and lower-priced neck speakers are already available. You just have to click here to find them. Among all of them, those from Bluedio HS stand out, a popular brand for its sound quality at a low price.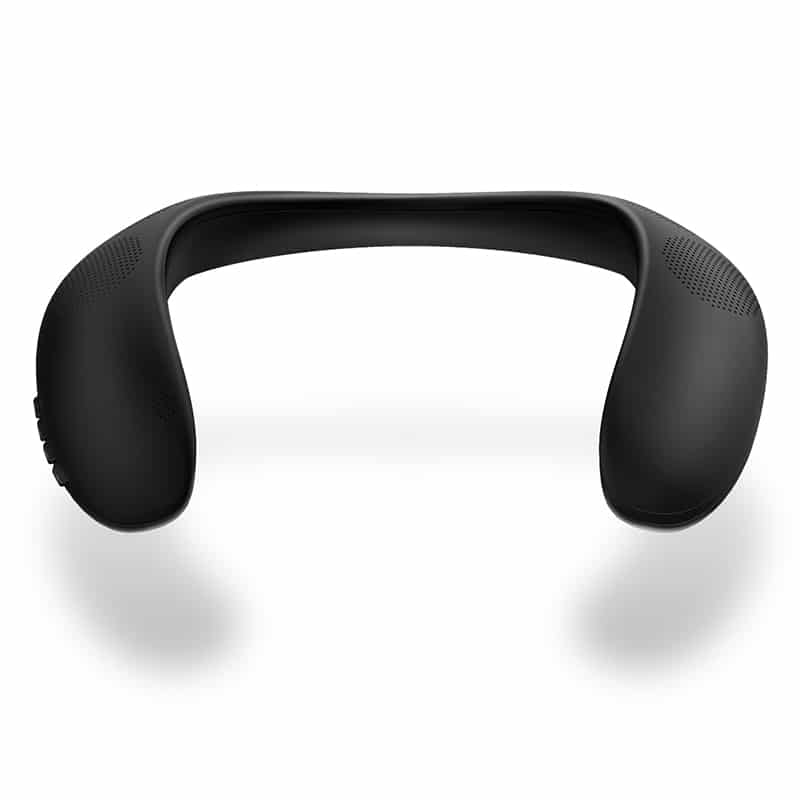 Our opinion: are these neck speakers worth buying on AliEpress?
Without a doubt, these speakers are quite a novelty and can radically change the way you listen to music. They are neither headphones nor speakers, they are an intermediate product and we think they can have many advantages in addition to listening to ASMR: to listen to music, to watch television, to play video games… And on AliExpress you can find them much cheaper.
As you can see, at AlixBlog we love reviewing the best products and the latest news, but if you have questions about how to buy on this online sales platform, we recommend visiting our tutorials section, where you can find the best tricks and tips to buy from safely on this platform.
What about you? Do you enjoy ASMR videos? Do you think these neck speakers are a good purchase? We would love to know your opinion, so don't hesitate and leave your comment below.