When we talk about the Chinese brand Xiaomi, we are talking about one of the best established brands when it comes to Android cellphones and internet sales. Its been a referent in the cellphone and electronic accessories market since 2011.
We've been asked a lot about two particular models, the Xiaomi Redmi Note 2 and the Xiaomi Redmi Note 3, the improved version, so today we are going to talk about both of them: what features and applications do they have, some trick to find them, and where to find them at incredibly cheap prices.
Let us start by telling you that one of the best places online to find them is AliExpress. This Chinese platform has the cheapest stock of Xiaomi Redmi Note phones on the market. Why? Probably because they are made in the same place they are sold (China), or maybe because they don't use intermediaries that up the price of phones for other reasons. Whatever the reason, you are going to find them much cheaper than you might expect.
Features of the Xiaomi Redmi Note 3 phone
If you still don't know the technical specifications of the latest Xiaomi Redmi Note model, here at AlixBlog we are gone give you the inns and outs of the Redmi Note 2 successor. It has an Android 5.1.1. system, a 1080p 5.5 inch screen, a octa-core Helio X10 processor at 2GHz, a 13 megapixel camera with flash LED in the rear part and 5 megapixel on the front. It has two memory options: 2GB RAM and 16GB storage or 3GB RAM with 32GB storage. It has a battery of 4100 mAh, dual SIM support and fingerprint reader. Finally, as to be expected, the Xiaomi Redmi Note also features 4G.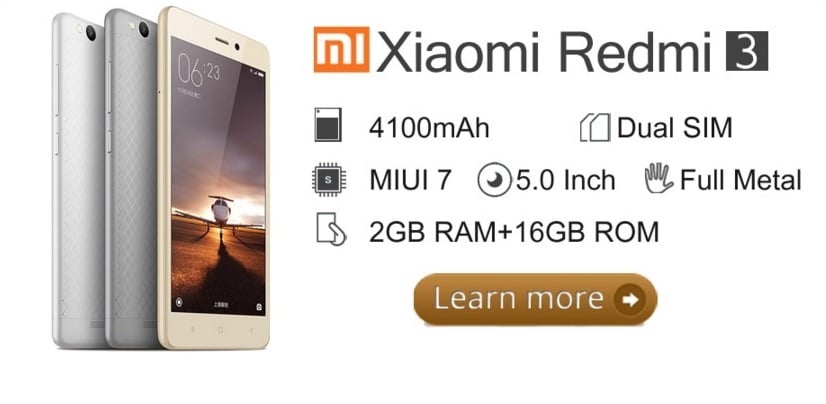 Features of the Xiaomi Redmi Note 2
Another best seller from Xiaomi is the older Xiaomi Redmi Note 2, the predecessor of the Note 3. The day it was released (on August 2015) it sold out, which shouldn't come as a surprise: it has all the features of mid to high range phone, at a price of a low range one.
Lets take a look at its specifications: it has a Android 5.1.5 system (the same one used by the Note 3), it's 76 mm wide, 152 high and 8.25 mm thick and weighs 160 grams. The screen (of the IPS LCD type and a density of 401 ppp pixels) of the Xiaomi Redmi Note 2 is 5.5 inches, with a resolution of 1920×1080. It has 2GB RAM memory and 16GB storage that can be widened with a micro SD. The main rear camera has a resolution of 13 megapixels and features a Flash LED. The front camera has a resolution of 5 megapixels.
The Xiaomi Redmi Note 2 has a battery with a capacity of 3020 mph (a little less than the Redmi Note 3). It also features a Dual SIM so you can use two cards at the same time, and of course its compatible with most 4G connections in Europe.
Price comparison for Xiaomi Redmi Notes in AliExpress vs other platforms
If you want a cheap Xiaomi Redmi Note 3, we recommend AliExpress for various reasons. The first being that when you check other platforms such as Amazon and others offering Chinese phones you are going to notice they stock is super limited. In fact, you might have to wait for the model you want to be available. On the other hand, AliExpress has tons of sellers offering these models on their catalogue. Plus, shipping is usually free.
Furthermore, on AliExpress you can get original Xiaomi phones for a similar price. The Redmi Note 2 is around 130 euros, while the Redmi Note 3 goes for approximately 160-170 euros. And, if you manage to find discounts (there are some), you can get them for even cheaper. 😉
Advice on purchasing Xiaomi phones in AliExpress
It isn't hard to find this product in AliExpress, but it isn't easy either. There so many accessories, such as covers, cases, chargers and screens, that the search can be confusing. That's why we've prepared a filtered search for the Xiaomi Redmi Note 2 and the Xiaomi Redmi Note 3 sorted from descendent price, so you get to the phones before you reach the accessories.  Remember you aren't going to find this phone for less than 100, but you aren't going to find it for more than 200 euros either.
You can also check out our guide on purchasing Android phones in AliExpress, among the top three you will find both the Note 2 and the Note 3, sorted from most to least sales, all of them with thousands of sales and positive reviews. Click on the link to see for yourself!
The best selling Xiaomi Redmi Note 2
Best selling Xiaomi Redmi Note 3
Are the Xiaomi phones in AliExpress original?
Of course, but in case you have any concerns, check if the seller has the AliExpress "Guaranteed Authenticity" stamp: this stamp guaranteed the originality of the product, and if by any chance you get a fake product, the seller will have to refund you the full amount of your purchase.

Another trick to know if the product is original or not, is to check the description. As a general rule, if it is, it will be written in the title. Luckily for us, all the Xiaomi Redmi Note we've found are original. So don't miss out on your chance!
Best shops to purchase Xiaomi Redmi Note 2 and 3 on AliExpress
Finally, here are the 5 best shops to purchase Xiaomi Redmi Note 2 and 3 phones. All of them have excellent ratings and tons of sales. We've looked through the comments left by previous customers and they are really good, so if you can, try going through these ones first. Click on the name to be redirected to the Xiaomi phones they offer :).
AlixBlogger Advice: Both Xiaomi and the shops in AliExpress offering it are known for the quality of their products. In fact, it's not the first time we talk about this brand, like in our article about external batteries for phones, so we can assure you people are super happy with them.
Oh, and remember that if you have any doubts left, you can always contact the sellers directly. They answer pretty fast, just like we will if you decide to leave us a comment 🙂