So far, Xiaomi's best robot vacuum cleaners were those of its partner brand Roborock. However, Viomi, famous for its line of ecological products, has just launched a very interesting robot vacuum cleaner, it is the Viomi V3, a very complete and low-priced robot vacuum cleaner. We are going to analyze its characteristics and how to find it cheaper on AliExpress.
Viomi V3: features of this robot vacuum on AliExpress
Externally, the Viomi V3 has a very minimalist style, with only two buttons on the top and available in black. It measures 35 centimeters in diameter and 9.5 centimeters high. At the top, we will also find the LDS laser protection tower.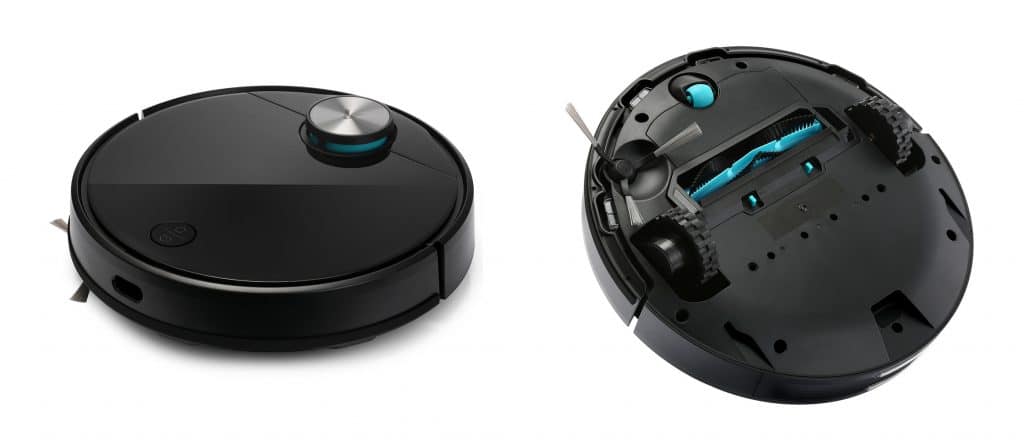 Navigation system and suction power
Thanks to this LDS laser and its SLAM algorithm, the Viomi V3 is able to create virtual maps of our home and plan cleaning routes. Therefore you can rest assured that this robot vacuum cleaner completely cleans your home and not even a corner is left to be cleaned.
It has up to 12 sensors that allow it to navigate avoiding obstacles: gyroscope, anti-collision sensor, anti-fall sensor, tank-type sensor, carpet sensor… If you think that the low price of this robot is due to cheap components, you are wrong since most are made of Japanese manufacturing such as its NIDEC motor or its Samsung battery.
In addition to navigating smartly, it has enough power to leave nothing behind. It has a suction power of 2,600 Pa. We can choose between 4 power levels: Silent (600 Pa), Standard (1,000 Pa), Strong (1,500 Pa) and Maximum (2,600 Pa).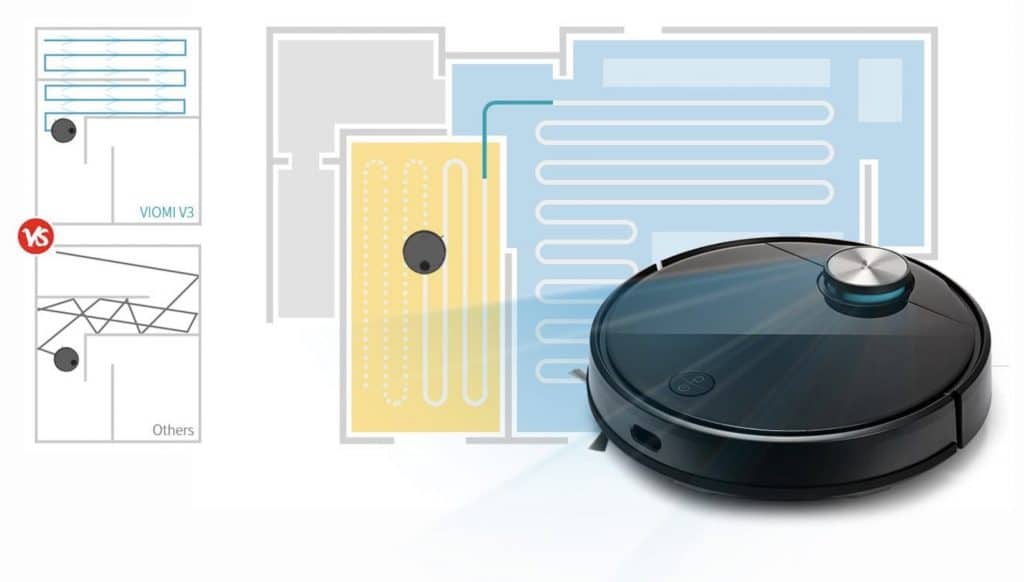 Components and scrubbing system
At the bottom, we will find 4 anti-fall sensors, a 3-legged front brush, and a main central brush with silicone and cedar bands very similar to the Roborock. Its large Japanese-made wheels allow it to move easily and overcome obstacles of up to 2 centimeters.
The Viomi V3 comes with 3 tanks: a 550 ml solid tank, a 550 ml liquid tank, and a mixed tank for cleaning and scrubbing at the same time, with 300 ml for waste and 200 ml for water. This allows us to fully customize our cleaning. The solid tank filter is HEPA type and includes a copper and silver ionization system to remove up to 99% of bacteria.
Its scrubbing system is very interesting, it imitates manual movement with a "Y" type scrubbing pattern to scrub in-depth, although we can also choose an "S" type pattern. Its electrical flow control allows you to choose 3 levels of water when scrubbing, in addition to the fact that its mops have a large surface, they clean better in a single pass.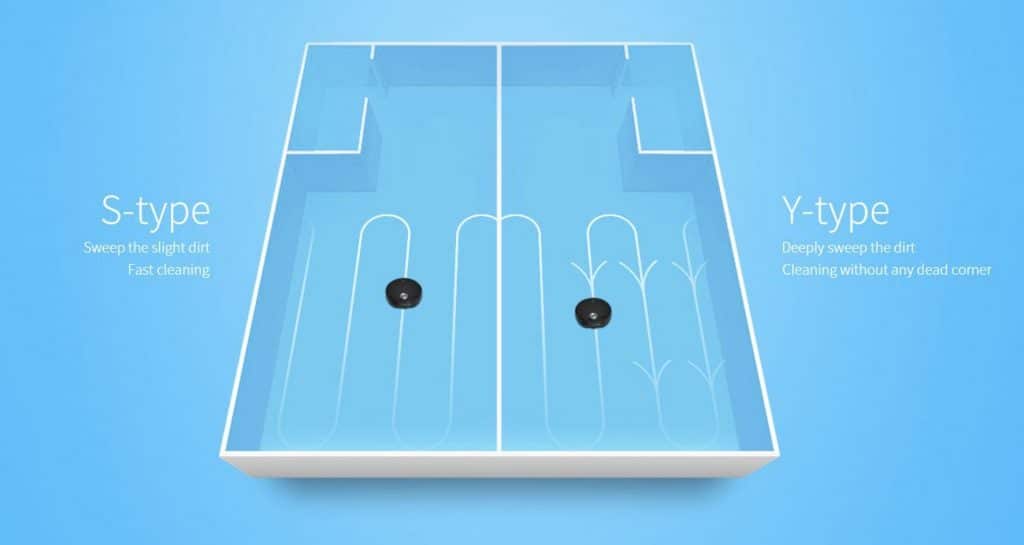 Autonomy and control mobile application
The new Viomi V3 robot vacuum has a powerful 4,900 mAh Samsung battery. In this time you can clean up to 150 minutes without interruptions, which is equivalent to 250 square meters. It charges in about 4 and a half hours. When your battery is low you can return to the charging base and resume cleaning at the same point when it has been fully charged.
An important part of these new smart robot vacuum cleaners is the possibility of being able to control them through their mobile application, in this case, the Xiaomi Mi Home app. Through it, we can schedule a cleaning, mark virtual barriers, mark forbidden areas, configure the power or level of scrubbing.
The most interesting thing is that it can memorize up to 5 different maps so it is ideal for multi-story homes. We can label the different rooms and save personalized settings on each map. You can create weekly cleaning routines to keep your house always clean.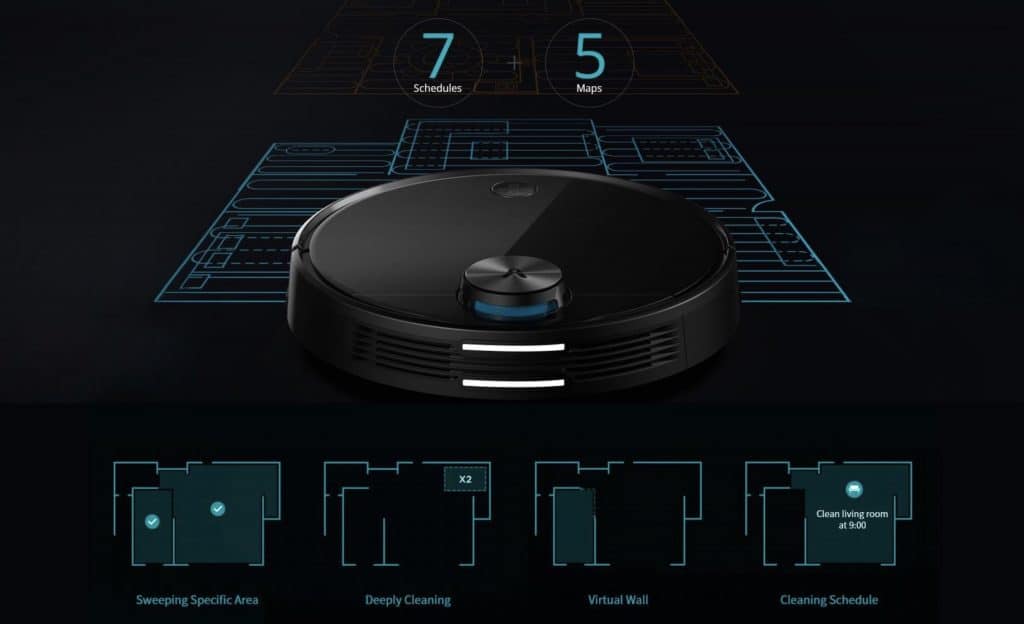 How to find the Xiaomi Viomi V3 at a lower price on AliExpress
This robot has gone quite unnoticed in the international market, however, it may be that with this new model it will begin to gain a foothold in homes around the world. Especially for its price, since taking into account its characteristics, it has a very reasonable price. It can be found on AliExpress by clicking here.
In short, is the Xiaomi Viomi V3 better than the Roborock?
Without a doubt, the Xiaomi Viomi V3 has surprised us with its features. It is a robot vacuum cleaner that can clean very efficiently. Among its advantages, we find its great suction power (2,600 Pa) and its large capacity tanks (up to 550 ml for scrubbing).
Its scrubbing system is much better than most robot vacuum cleaners as it has electronic water flow control and can scrub with a "Y" pattern that mimics manual scrubbing for a better result. In addition, the HEPA filter with ions removes up to 99% of viruses and bacteria.
Among its cons we find that, although it has a good capacity if we use a single tank, the mixed tank has a lower capacity than in any Roborock. It is a bit louder and also its main brush is not floating.
In short, the Viomi V3 has very interesting features that could further improve Roborock robot vacuum cleaners, its price is lower which makes it a very interesting option. Even so, although the Roborock does not have as much power, always proves to be efficient and durable.
More tips and tricks for buying on AliExpress
If you want to know more about robot vacuum cleaners, in our blog we have reviews of various Roborock models, and we explain how to find them on AliExpress. AliExpress is one of the best platforms to buy this type of product since we avoid intermediaries and end up saving money.
If you have questions about how to buy safely on this sales platform, on our blog we have a section with tutorials in which we explain the best tips and tricks: how you can pay safely, how long the shipments take, how to get coupons and discounts…
Now you know this new Viomi V3 robot vacuum cleaner, what do you think? Do you think it is a good alternative to the Roborock? We would love to hear your opinion, do not hesitate and leave us a comment below.