More and more people are encouraged to practice yoga at home. It is an exercise that brings us many benefits on a physical and mental level: you will feel more relaxed, exercise your whole body, and gain flexibility. Besides, you can find several tutorials and guided routines on the internet, which is one of the reasons it has become one of the most practiced disciplines.
It is also very popular because, unlike other physical activities, there's no need for much equipment: a mat and comfortable clothes are enough to practice. Whether you are a beginner or an expert, a good mat will help you perform the postures comfortably and safely. However, once you start looking for yoga mats you will notice that the best ones are quite expensive.
As you know, yoga is mostly practiced on a mat, and low-cost ones tend to be very thin, very soft, or slippery. You can imagine how uncomfortable it is to do a whole yoga class worrying about the mat. So we are going to show you how to find the best economic yoga mats available on AliExpress.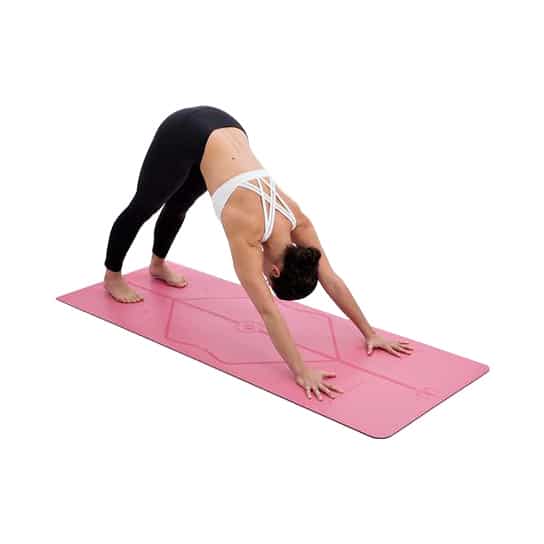 Best yoga mat brands available on AliExpress
Yoga is a worldwide discipline. Hence, many brands manufacture yoga mats. Nevertheless, the ones we find more easily on the internet are those from brands that invest a lot of money on marketing and, of course, they're usually expensive. But that doesn't mean they are of better quality since most countries externalize their production processes to other countries, such as China. That's why we are going to talk about some brands of high quality and low prices yoga mats, available on AliExpress. You can see them all clicking here.
Jusenda yoga mats
For starters, one of the brands with the most sales. It's called Jusenda and it specializes in sports products. Their yoga mats are non-slip and made of TPE, natural rubber, and cork. They have a national warehouse in China, Spain, and the United States, so you will receive your yoga mat faster. Click here to check all their models.
The best sellers are probably TPE mats. Some are finished in suede and 6mm thick, although there are some thinner ones, which are ideal for travel. Their thicker mats are also very popular, 10-15 mm, and made of a high-density foam called NBR for better cushioning. For those looking for a more natural or non-slip yoga mat, there are several models that combine TPE and natural cork.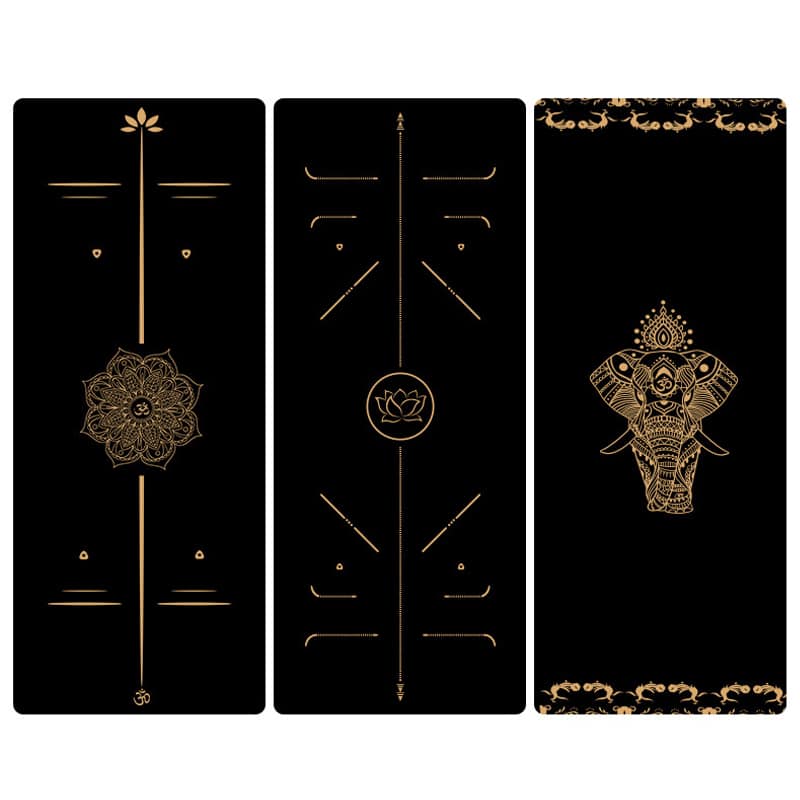 Dawsonk yoga mats
What we like most about Dawsonk are their original designs. They have a wide variety of models with different features, so it is easy to find a quality yoga mat with a lovely design. They also have warehouses in countries such as China, Spain, or Russia. You can find their mats by clicking here.
All their yoga mats are non-slip and have a thickness of 1 to 10 mm. Although the best sellers are those made of TPE, if you are interested in the material, keep in mind that the cheapest mats of this brand are made of PVC. They have many patterned travel yoga mats and some include a carry case or strap, but even those have a non-slip rubber base and a fast-wicking fiber top layer.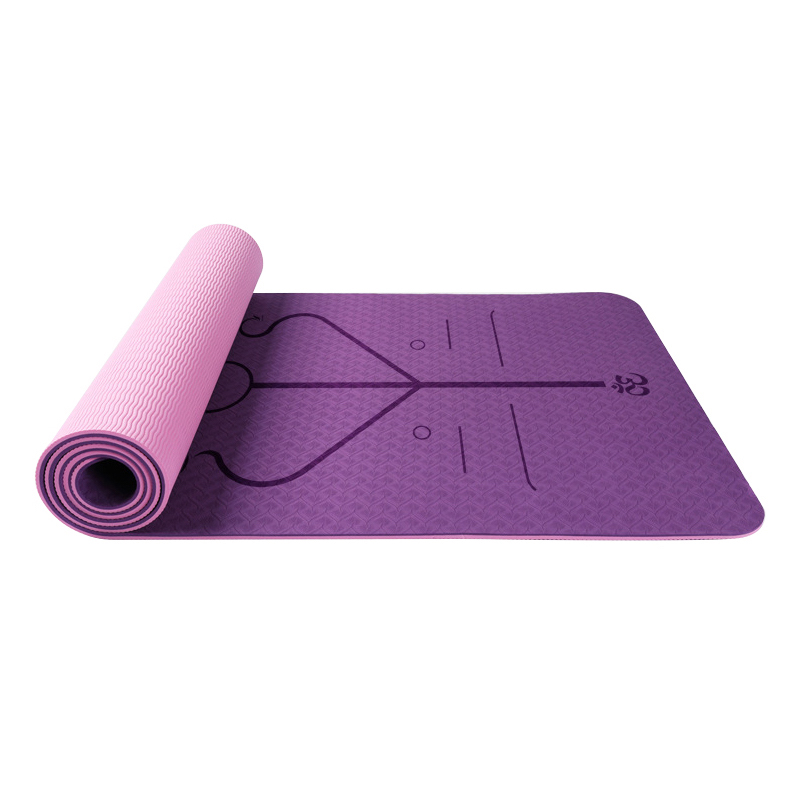 Amyoga yoga mats
Amyoga specializes in yoga products. You can find blocks, straps, special clothing, and also non-slip yoga mats. Their mats remind us of the popular brand Manduka, but for a third of the cost, as you can see here.
Again, TPE is the main protagonist of this brand. The best sellers have a thickness of 6 mm and weight around 2.2 pounds. Some models are designed for dynamic yoga, like their PVC and jute mats, ideal for mild sweating and great cushioning. Lastly, their travel yoga mats are thinner and made from natural rubber.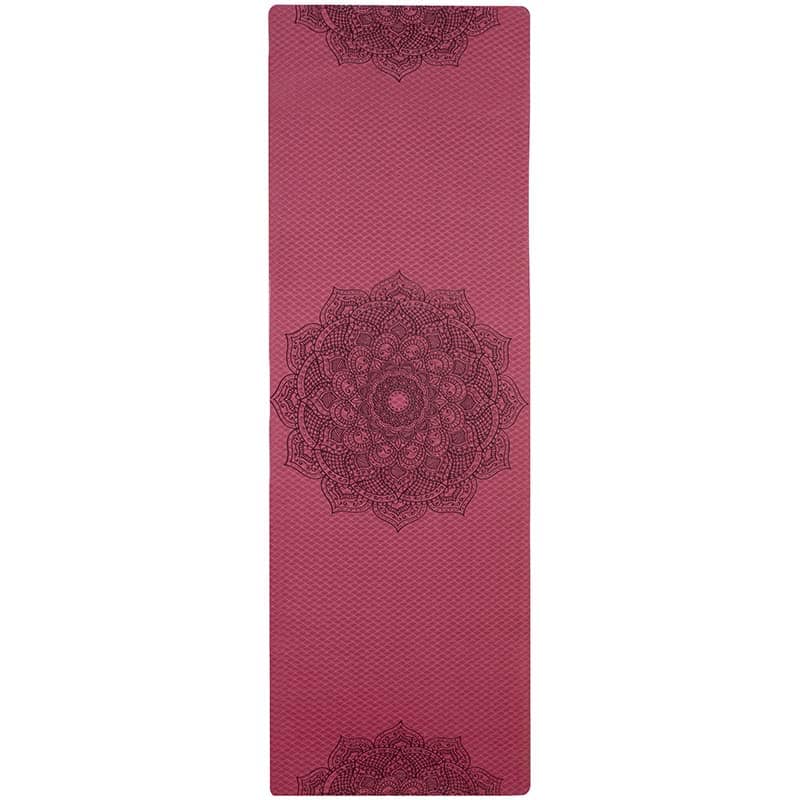 Zhongzuishang yoga mats
With more than 100 different models, Zhongzuishang is possibly one of the stores with the most variety of yoga mats: natural cork mats, patterned yoga mats, lightweight yoga mats for travel … They are very similar to brands such as Casall or Carabai. You can find them all here.
If you travel often and are looking for a light yoga mat with a beautiful design, you can find several mats made of 1 mm natural rubber, although the best-sellers are their cork or TPE mats with a thickness of 6 mm. Some include guidance lines to help you align your posture. They have a lot of yoga mats that include covers to transport them.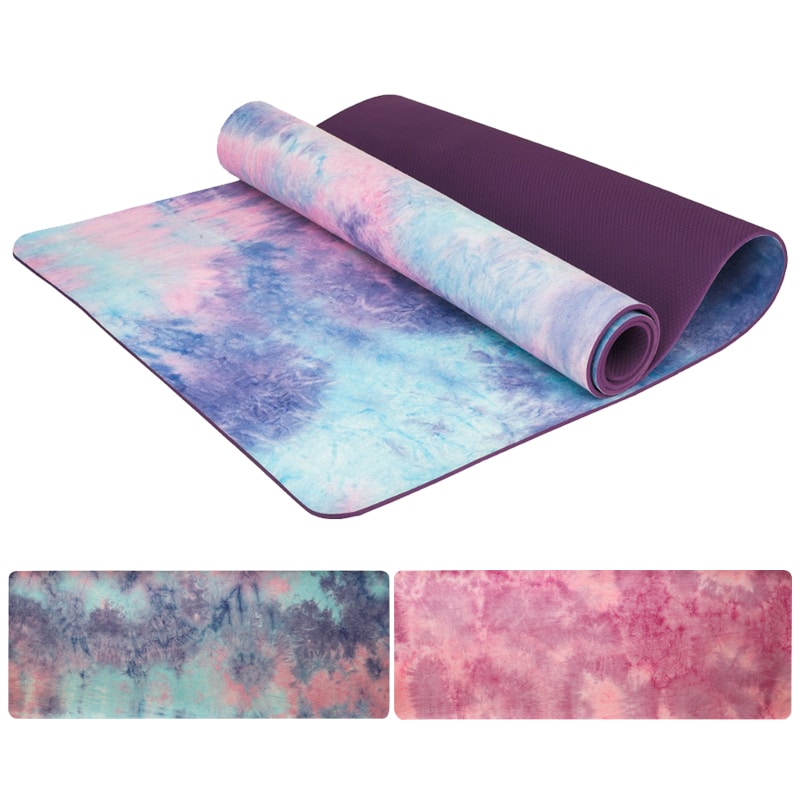 Xiaomi yoga mats
Wasn't Xiaomi a technology brand? Well, yes, it became popular for their great value for money smartphones, but it has expanded its catalog increasingly, and its sports products are very successful as well. The quality of their yoga mats is very good as you can see in this link.
They are made of TPE or natural rubber and are non-slip on both sides. They are 6 mm thick and are suited to absorb shocks and protect your joints. Some models have auxiliary lines engraved to make it easier to practice some postures.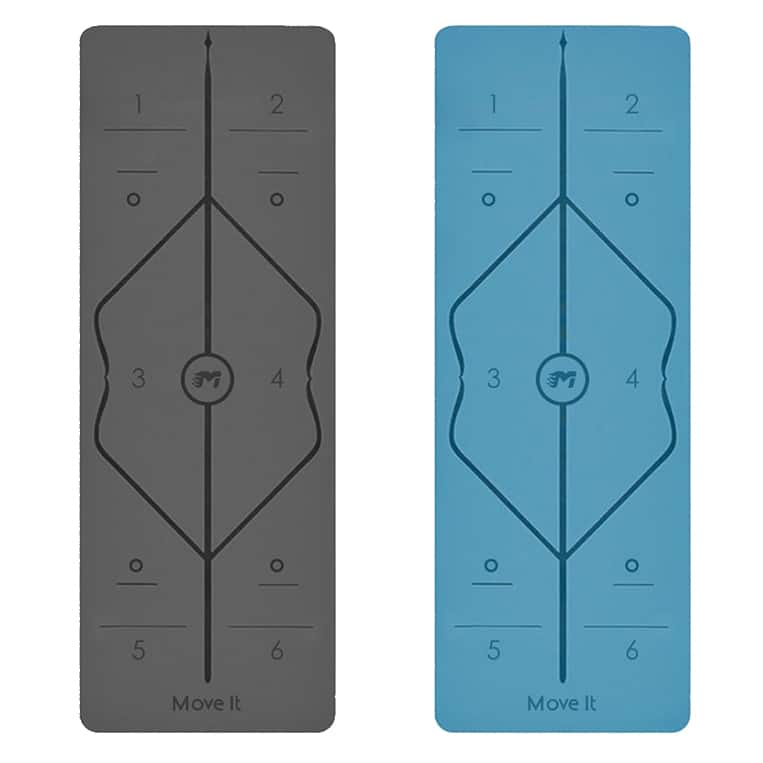 Other yoga mat brands
We have shown you the best brands of yoga mats on AliExpress. Although there are many other stores, these are specialized and have incredible models. They all have in common their low prices, but if you want to know which are the most popular brands of mats on the market, you can find them below.
Manduka yoga mats
Reebok yoga mats
Casall yoga mats
Adidas yoga mats
Nike yoga mats
Types of mats available on sale on AliExpress
Not all yoga mats are the same. We have explained what type of mats each brand sells and which ones are the best, but if you want to know which type of yoga mat is best suited to your practice, next we summarize the advantages and disadvantages of each one.
Non-slip yoga mat
They are the most sought after. Some cheap mats, especially those conceived only for gym use, that slip. With a non-slip yoga mat, we can concentrate on our postures or in breathing and forget about the rest. Some of them may slip at first, but they become more non-slip with use. Anyway, if you do some type of dynamic yoga or sweat a lot, you will need a more non-slip mat, below you will find some recommendations for the practice of ashtanga yoga.
Ecological yoga mat
The best-selling and inexpensive yoga mats are usually made of PVC, a combination of plastic. But if you want to reduce your carbon footprint, ecological yoga mats have appeared in recent years, they are a good alternative and offer good results. A good example is cork yoga mats, made from cork oak bark, a natural material that has antifungal properties and is ideal for Bikram yoga since it improves traction with sweat. Another good alternative is natural rubber yoga mats, made from the sap of the rubber tree, they are very elastic and resistant, ideal for any type of yoga discipline.
Foldable yoga mat
Most yoga mats are stored rolled up and can be transported easily with a strap or sleeve. But many yogis prefer to use a foldable yoga mat, which is more practical for storing them at home. As a drawback, most ecological materials don't fold, so if you want a folding yoga mat, it will be probably made of PVC, and for the same reason, the best-known brands have focused on the roll-up models. However, we have found several foldable yoga mats on AliExpress with non-slip finish, to practice in total comfort. You can find them at this link.
Thick yoga mat
Many people prefer a thick yoga mat since we can feel uncomfortable when digging in the knees in some positions. The main advantage of these yoga mats is that they offer more comfort for people with some physical problems, or they are better for types of dynamic yoga. However, they can be inconvenient for some balancing postures. Also, if the mat has the right density, it will be very heavy. A yoga mat is considered thick from 6 mm and you can find them cheaper by clicking here.
Travel yoga mat
The good thing about yoga is that it can be practiced anywhere, so you can do it even when traveling. You only need to take your mat with you. In this case, it should be much better if it's compact, light, and with a cover. Some models weigh less than 2.2 pounds, and although they are not recommended for regular practice, they are the perfect companions for traveling.
Ashtanga yoga mat
Ashtanga is a type of dynamic yoga. It is very intense and makes you sweat a lot, so as with Bikram yoga, a mat that offers a non-slip finish and has good traction even in sweat is best. A good option is a cork or cotton yoga mat with a good thickness.
Aspects to consider before buying a yoga mat
What makes one model of higher quality than others? There are several aspects that you should consider when purchasing your next mat. Next, we explain the most important characteristics of a yoga mat.
Material
Most of the mats on the market are made of PVC, a composite material of plastic and heavy metals that emits polluting materials in its manufacture. Nowadays there are more ecological alternatives such as TPE (synthetic rubber) which doesn't contain heavy metals and is biodegradable. To the touch, these TPE mats have more grip and better absorb impacts. There are also natural rubber yoga mats with linen on top. They are light, comfortable, and offer good cushioning.
Thickness and density
The thickness of the mat also determines its comfort. The thinner ones, 1.5 or 2 mm, are light and easy to carry, but are uncomfortable for daily use, although they are a good complement to place on top of another yoga mat. Most yoga mats on the market measure between 3 and 4 mm, a fairly acceptable standard thickness. The 5mm ones are great for cushioning jumps but are too thick for balancing postures.
Density also determines comfort. A dense yoga mat will be quite heavy, but it will not sag when we are exercising, so it will be much more comfortable. So be wary of very thick and very light yoga mats, as they may be very uncomfortable in your yoga practice.
Size
For a comfortable practice, you should fit inside your mat. There are mats of different widths and lengths, but this can be very important if we are taller than average or depending on the type of postures we practice. The usual thing is that they measure up to 180 cm long and 65 cm wide but there are more and more sizes on the market.
Non-slip and other finishes
This is very important since non-slip yoga mats guarantee us to practice our postures without worrying that our hands or feet will slip, and allows us to focus on the practice itself. Forget non-slip socks and invest in a good mat. If you practice a style of yoga in which you sweat a lot, it is also important that the material is antifungal.
Price
As you can see, there are many factors when choosing a yoga mat, so prices vary a lot, not only for quality but also for the brand and design. Still, we can talk about a price range so that you can assess whether a yoga mat is expensive or cheap:
A yoga mat with a thickness of 3 or 4 mm can cost from US$ 50 to $80 at any physical or online store, but you can find them on AliExpress for half of those prices.
If the yoga mat has a different or special design or greater thickness; if it's made of certified natural materials or is from a famous brand such as Adidas or Manduka, it can cost over US$ 120. In AliExpress, the most premium yoga mats do not cost over US$95.
Is it safe to buy a yoga mat on AliExpress? Which guarantees do they offer? Is it easy to return the product if I'm not satisfied with it?
One of the best reasons to buy on this online sales platform is its low prices: you will not find such quality yoga mats at that price in platforms like Amazon or eBay. Not only that, although products come from China, they arrive directly to your house. Delivery times are getting shorter and shorter, especially if we choose sellers with a national warehouse in our country. Most warehouses outside of China are located in Spain, the United States, or Brazil and this guarantees us to receive our low-priced yoga mat even in 3 calendar days, depending on the country. Really, a time record.
Besides, the customer protection policy of the platform and its purchase guarantees have been improving over the years. If what you receive does not meet the description or does not arrive at the agreed time, you will receive a refund of your money by opening a dispute where you provide all the details. Each time, more sellers offer free returns in the first 15 days if the product doesn't meet your expectations. In our Claims, Disputes and Returns on AliExpress Guide, we explain better how it works.
Get your yoga mat at the best price with special offers and coupons
If you want to buy a yoga mat, AliExpress is the best option to get it at the best price, especially if you take advantage of the offers and discounts offered by the platform on a regular basis for both its regular customers and new buyers. The best way to see the daily deals is to go to the main AliExpress page. In our blog you will also find information on the best sales and, in our tutorial section, we also have several guides to explain how to buy better and get discounts.
We hope this guide helps you find a yoga mat that suits your needs and preferences at the best price. Did you already decide which is the one for you? We would love to hear your opinion and your experience buying on this platform, don't think twice and leave us a comment below.